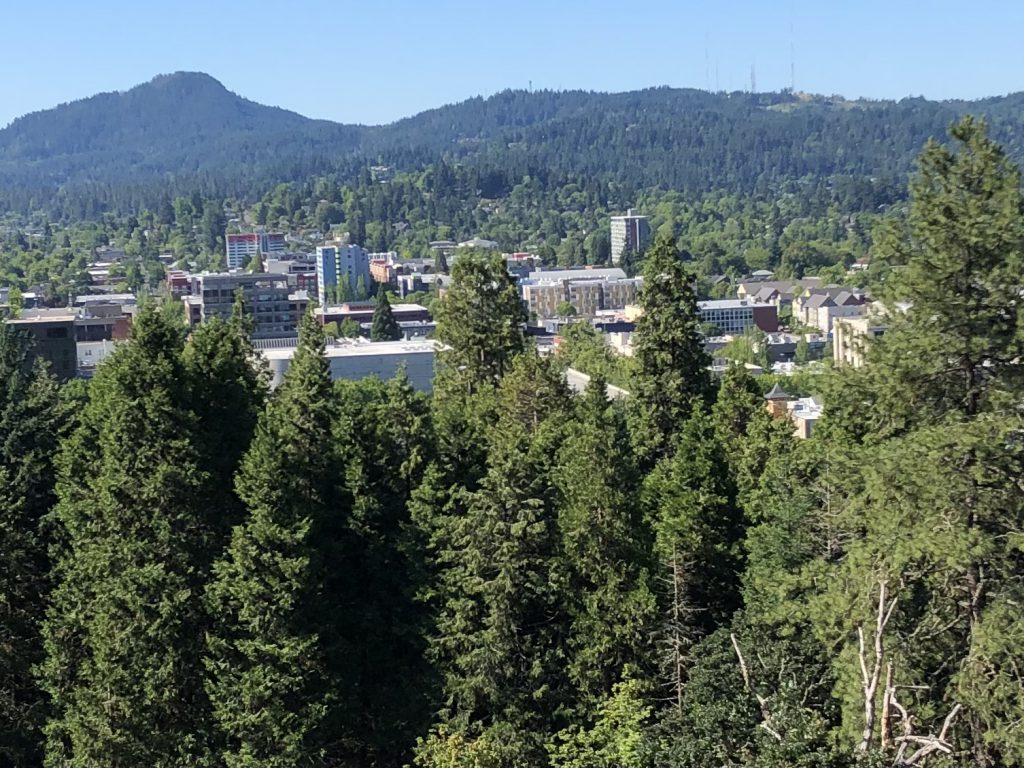 Arrived about ten hours after mind bending travel a bit DOA but only partly dead– a long unusually winding road to Eugene OR. Pollen counts are off the charts I remember well from past competitions here in Eugene in June.
Went for a run down along the most beautiful river late afternoon sun lowering waters rippling past the homeless encampments orderly past a botanical garden I paused to inspect an exceptionally large ancient tree and almost wished I had brought my tent to camp by the river Oh to be hey 19 again.
EUGENE REGISTER GUARD a shell of its former self just one story a summary of folks to watch written by a reporter from USA TODAY!
Local news a bit better lead story "Human Composting Legalized" later a rather good report on all of those with ties to Oregon competing in the Trials.
It feels good to be going to a Track & Field Meeting where everyone is competing to their limits racing, jumping, throwing no lollygagging like 99% of their not so athletic minded brethren in a marathon major or what not.
And I think those 99% detract from so-called professional athletics. You cannot have a pro sport with an attitude of everyone's equality when sport was established to determine hierarchies. Egalitarian? Equal until the gun goes off.
Running 1977 NYC Marathon a Hassidic Jewish person startled by the thousands of runners asks, "what is the MEANING of all this running?" I pat my stomach, "I'm trying to lose weight." "How much have you lost?"
Get me back to racing take me back, take me way, way back. Butterfield Street Lowell MA.
Action tonight includes the Men's 10,000 M Final where I predict Ben True will make the team and the time will be fast perhaps sub-27:00. Never met Ben but have followed his long career and a fellow New Englander and all that.
From T&F News:
| | |
| --- | --- |
| 1. Lopez Lomong (Nike Bowerman TC) | 1 |
| 2. Woody Kincaid (Nike Bowerman TC) | nr |
| 3. Grant Fisher (Nike Bowerman TC) | nr |
| 4. Eric Jenkins (Nike) | nr |
| 5. Emmanuel Bor (US Army) | nr |
| 6. Ben True (unattached) | 6 |
| 7. Joe Klecker (On AC) | nr |
| 8. Samuel Chelanga (unattached) | nr |
| 9. Leonard Korir (US Army) | 3 |
| 10. Frank Lara (Tracksmith/Roots Running Project) | |
The other final is the Men's Shot Put which should be a good battle.
SHOT
1. Ryan Crouser (Nike)
1
2. Joe Kovacs (Velaasa/New York AC)
2
3. Darrell Hill (Nike)
3
4. Payton Otterdahl (Nike)
4
5. Josh Awotunde (Shore AC)
6
6. Tripp Piperi (Texas)
9
7. Jordan Geist (Arizona)
10
8. Andrew Liskowitz (Michigan)
nr
9. T'Mond Johnson (Garage Strength)
nr
10. Roger Steen (Velaasa)
Qualifying in other events including Women's 1500M and 5000M.
Should be a humdinger near perfect conditions a tad warm for some.
Heard this one while walking to Hayward coming from one and it feels like that kind of day.