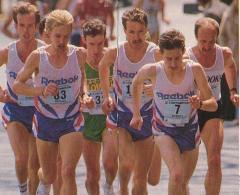 Last Go Round
Past tense. Past your prime. Washed up. Slipping away. Writing on the wall. There was for me a hint now and then, as when I was mistaken for the team manager at the World Cross-Country Championship, and for a coach at the Penn Relays.
"Hodgie, you got athletes in the 10K tonight?"
"Yes. Me."
On my journey home from Penn I thought about my long involvement with athletics, and though I was on a high, having just run within five seconds of my personal record, and qualified for the Olympic Trials, I also knew my vagabond days were winding down. I just wasn't yet ready to make that final, terrible decision.
Next year, I decided, would be my last "all in" year, and I planned to make the best of it. After cross-country, running on the track was my next favorite discipline, and I now regretted that I had never focused on it more.
I thought I would run Boston again in 1987, but I felt slighted when I began to hear unofficially who was being invited. Nothing new for me; I had never been invited to run Boston. But, in this new professional era, perhaps . . .
What does it mean to be invited to run? You get appearance money, the legacy of a supposedly bygone amateur era. But the prize money, which to the public seemed large in respect to the winners, was, and is, miniscule. This is why there is no depth any longer, and a fairly small number of men who run sub 2:20. To become a truly professional race, first prize should be a million dollars, and the prize money should go one hundred deep. If Boston did that, and the other so called marathon majors, such as Chicago and New York City, we would see fifty American men run sub 2:10 every year, instead of one or two.
The Boston Marathon's new sugar daddy, John Hancock, handled this invite deal from the beginning through their elite athlete coordinator, and made all the payments. In 1987 it was not just world leaders and former winners who were invited, but some first time marathoners as well.
So in 1987 I stepped back from the marathons and pointed for the world cross, a team I had not made in two previous tries. I finished 1986 running the Twin Cities Marathon, the qualifier for the world championships, and finished ninth, running 2:15. Then my focus through the winter months was to do much of my running back on the mean streets of Lowell. I thought it appropriate to finish off my running "career" back where it started.
For an athlete who was long in the tooth I was having quite a good time, and I was motivated for the race at Penn Relays, where old friends, coaches themselves, thought I was one of them and no longer a competitor. It ain't dark yet.
Now, I focused on the track nationals in San Jose in June. I would fund myself to that one as well, so I looked for a race or two where I could make some money to cover my expenses. I was newly married, we had just bought a home, and I was living on a shoe-string budget.
The best race for me to make my travel money was the Mount Washington Road Race, which unfortunately, was five days before nationals. I had won this race on six previous occasions, including five in a row from 1976-1980. Then did not compete there again until 1985. I won again in 1987, and though I felt I was holding back, I still ran my fastest ever time and was 1:30 ahead of an old friend, Domingo Tibaduiza.
Fellow athletes and coaches thought I was nuts, but I felt no ill effects from my mountain run and recovered quickly. It was actually a good test. Three days later I did a 2K time trial at the Northeastern Track in Dedham, Massachusetts. I was ready.
I made my way to San Jose, but before I left I called a designated number at a designated time to "declare" my entry to run. In national championship meets, one must not only enter before the deadline, but must call only at this window of time, usually just a few hours long, and make your solemn declaration.
I could not get through, as the line was continually busy. So, when I got to Chicago I called again. No luck. I was now at risk of not being allowed to run in this competition, which had been my focal point all year. When I arrived at my hotel in San Jose, the meet headquarters, I went to the hospitality room to try to straighten out my entry. They had the heat sheets on the wall and my name was not listed. A representative told me to go to the track in the morning, where they had a trailer set up, and talk with John Chaplin. Then he let out a wry chuckle.
I had dinner with some fellow athletes who did not seem at all confident about my chances of getting into the race. I had the fifth fastest time in the country to that point, 28:29, but I knew with officialdom many were heavy handed and didn't care. I wondered why with this attitude they were even there.
I went to the track the next day and waited in line to get into the trailer and talk with Chaplin. He looked me over and told me to wait outside. A few minutes later he came out, never looked my way, and walked away. I waited two hours or more, baking hot even in the shade, and finally, coach and USATF official Berny Wagner came out of the trailer and asked what I was doing there.
"Chaplin left me waiting here for the last couple of hours," I said. "Is he coming back?"
I told him my sob story and he picked up Track and Field News, looked at the 10K list, and got me in (sigh of relief). But, I still worried something would go wrong.
Our race was the following evening, and the temps did cool down from the nearly 100 degree days. I stuck my nose in it, but there was a lot of playing around, and changes of pace. I was not practiced at this type of racing, and with all the jostling I let it upset my rhythm. I didn't have the confidence to go to the front, even when the pace lagged. I had been away from track racing too long. At Penn I had taken the lead on the first lap, and led almost every step of the race until the last straightaway, before finishing third. Here, I wore myself down running wide and wasting energy trying to cover every move. But, I wound up ninth in 28:56. Not too shabby.
I was chosen to run for the East Team in the United States Olympic Committee Sports Fest held that year at Duke University in July. So, I had one more opportunity to run a fairly big track competition, albeit in high heat and humidity. My strategy for this one was to keep an honest pace, so any time it slowed above a 70-second pace, I took the lead and brought it back to the 70s, which meant I led the majority of the race. Heading into the last lap I had Jim Hill sitting on my shoulder, and he blasted a 54 while I managed a 60 and got passed at the line by Danny Martinez coming up from behind. I was third in 29:06.
Before the race our coach, Vin Lannana, whom I knew a little bit from his Dartmouth days, approached me with Paul Gompers, who asked me to switch with him and run the half marathon. I didn't even consider it.
I spent the rest of the summer running road races, and finished off the year running the Sacramento Marathon in 2:22, finishing eighth. After the race I traveled to Hawaii for The Athletics Congress (TAC) Convention as the athlete representative for New England.
Overall, I had shown I was not completely washed up, and the fact was, there were not as many marathoners running fast who were in recent years coming up through the ranks. I was considering running Boston when I was contacted by their elite athlete coordinator. He commented that I would be one of the few Americans running, since contenders for the Olympic team were all running the trials. He never made a commitment to inviting me, and I was insulted not to be considered an Olympic contender. I didn't believe there was a single person running that trial that I could not beat on any given day.
I planned to run the 10,000 at the Olympic track trials as well. Should I skip the marathon and go all in for the track? Perhaps I was delusional, thinking I could run with the likes of Bickford, Cummings, Plascencia, and Porter on the track, but I had beaten them all in one race or another. Still, it was very long odds for me.
The marathon had bedeviled and beguiled me for so long, it was like a cruel mistress who grabbed me by the nose and kicked me in the ass. But there I was in beautiful Weehawken, New Jersey on April 24th, 1988.
The early pace was modest, and I felt good and even stretched my legs a little at around fourteen miles and took a small lead. Perhaps I should have been more aggressive and forged a lead. I fell back in with the pack, and even dropped off a bit to grab a drink. As we approached the twenty-mile mark, a TV commentator on a motorcycle sidecar shouted, "Great job of staying up there, Bobby," which translated quickly in my mind to mean, "Hey, Bobby, you have already exceeded expectations. You can fall back now."
The pack was six: Curp, Eyestone, Spence, Connover, Gompers, and me. Someone made a strong move about twenty-one miles in. I was still close, but then my hamstring cramped and I slowed to a walk. I massaged it, and got back running, slowly, and eventually I was running a solid pace again. I caught up with Gompers, who was in fifth, but as soon as I did, he took off.
I saw him pass someone, and Spence, who looked so good just a few miles before, was in survival shuffle, as I went by him. The last few miles were agonizing. I was full of energy but hamstrung to use it. Peter Pfitzinger came through and picked us off to grab the third spot, and Don "Spiney Norman passed me also in the last mile. I finished seventh. Not too shabby, but a big letdown just the same.
When it came to the Olympic trials, Indianapolis is where my wife is from and it is where my Olympic hopes and dreams were finally slapped upside the head. My hamstring had improved through regular massage. But, my calf muscle began to give me trouble, as did my plantar tendon and my heels (again). I had some good preliminary efforts on the track, though, including a 10K that I paced for four miles to help Greg Meyer and Danny Dillon get a qualifier for the trials.
I believe easy access to physical therapy, to say nothing of psychiatric help, would have been a great benefit to me. Sports medicine barely existed in the '80s, so I took two aspirin, grabbed an ice pack, a hydrocollator pad, a cold beer, and put my legs up.
I traveled to Indy early and stayed with my in-laws. I looked over the process for declaring, and it said runners could do it in person. So I went to the IUPUI track facility at the appointed hour, and the person manning the little office said he knew nothing about declaring in person. I showed him the info, and no sooner had I pointed it out than my old nemesis John Chaplin shouted at me to "Get out, GET OUT!", and I had no recourse other than to shout back, "f*** you."
So I left, went outside, sat on a park bench, and had a good laugh. I wish I could say athletics mostly had been good to me, but sometimes . . .
I eventually got myself declared, but had to go back the next day to pick up my packet with my number and other information, which may or may not have proven helpful. I went to the track an hour before pick up time and did a little workout. As I was jogging after an interval, an officious looking guy ran up to me and said, "Bobby Hodge?"
It turned out the guy was working the meet, but was also the president of a local running club. They were desperate for an athlete to speak at their club meeting that evening, as someone famous had cancelled on them.
"I'd be happy to," I said, "but I need to pick up my packet and will probably have to wait in line."
"I'll get it for you and meet you at your hotel," he said.
"OK, sounds good." So, that worked out.
Race day arrived and the heat and humidity were staggering. Back then the trials schedule mimicked the Olympic schedule, so we ran heats. They had water stations on the track and also a water sprayer you could choose to run through. I ran in heat one, and after the first mile I became a zombie. Jay Marden collapsed with heat stroke, and apparently I had to leap over him, but I don't remember him going down.
I nearly made the finals, fishing seventh, but I was not brokenhearted that I didn't.
That was my ignominious ending.
Postscript: Back at the hotel after my race I bumped into a guy in the lobby who was recruiting athletes for a marathon race in Japan. He made me an offer of three thousand dollars to run, on top of any potential prize money. I thought, Well, I do have a lot of residual fitness still. Maybe I can make some money road racing a bit.
Later I met Frannie in the hotel lounge and told her about my offer to race in Japan.
"I'll give you three thousand dollars to stay home. Tee he he," she said.
Of course, I never stopped running.