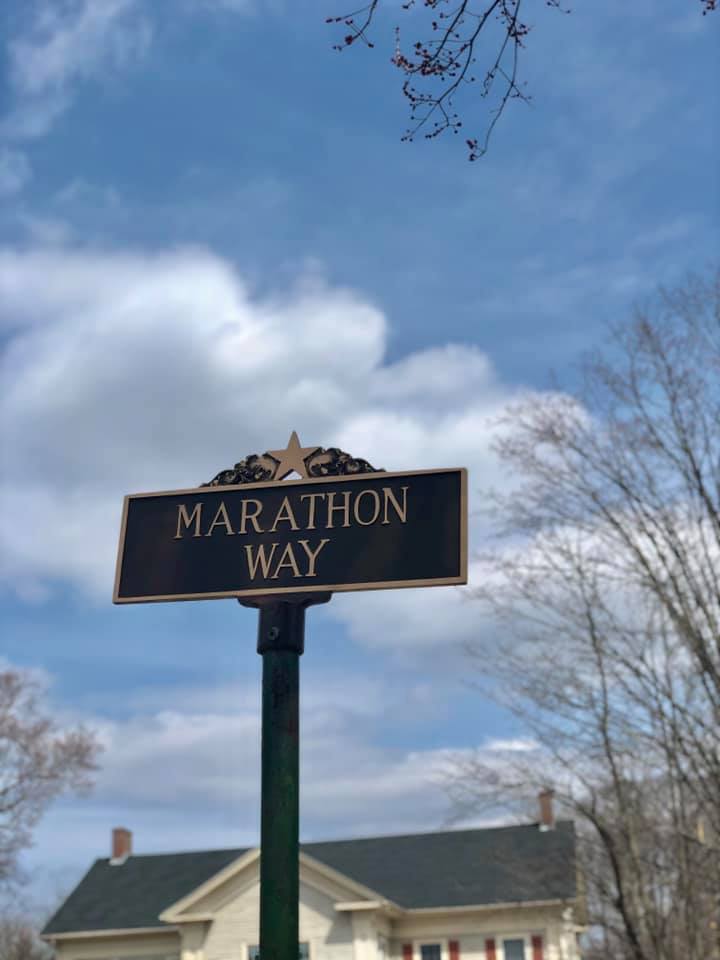 New Years Day 1986/87 Well Spent –Misspent Youth –Elder at 31—Musings from Hopkinton to Boston
I combine the two New Years they were the last of this type for me as I rolled into semi retirement.
The tradition had become established for me when I got that New Years Eve phone call at my parents house in Lowell MA back in 1976
https://www.google.com/amp/s/tonireavis.com/2015/12/31/forty-years-ago-on-new-years-day/amp/
The run from the Eliot Lounge in Boston to the Jones family home in Scituate like all good things and for various reasons came to an end and a new tradition began the Nike Welly store in Wellesley on the Boston Marathon course to the Eliot about 12 miles.
The knuckleheads at Nike Welly Tommy Ratcliffe and crew and the new management team at the Eliot Mike King took care of the organizing details including making up classy T-Shirts and booking some rooms at the Eliot Hotel for cleaning up after the run.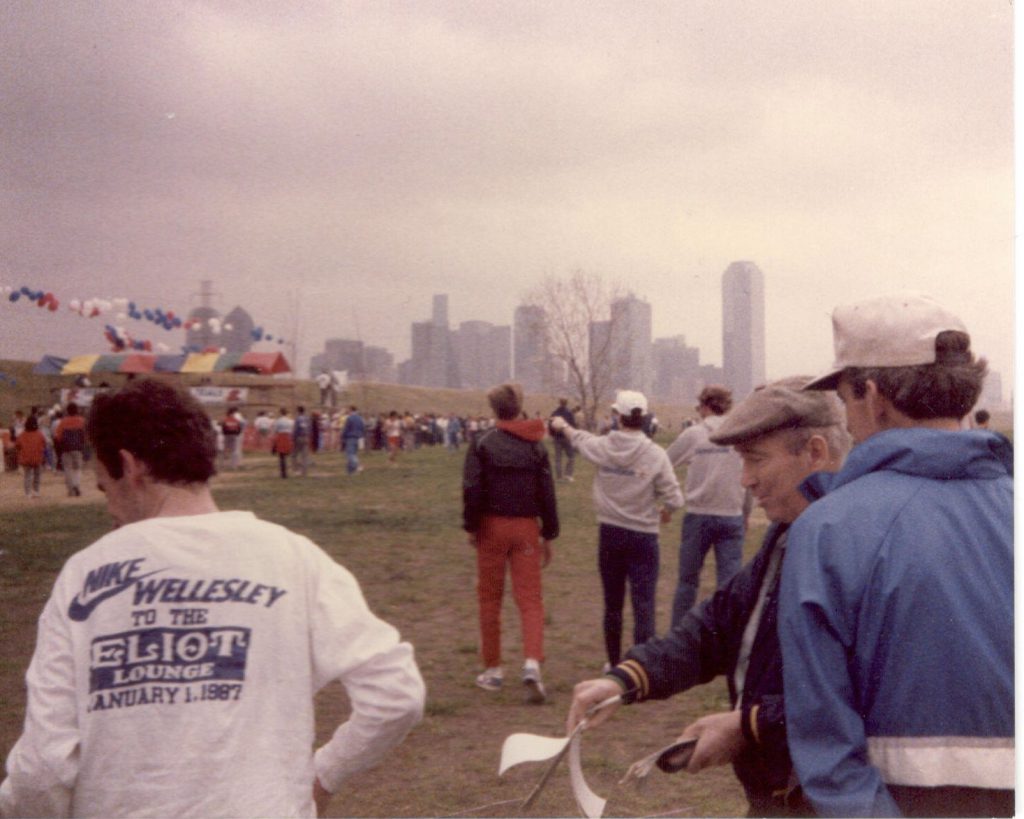 Frannie and I had just moved from Wellesley to Hopkinton in December and were planning our wedding in June. I was also planning to run Boston perhaps for the final time in this the year when prize money was introduced finally.
Not content to run the 12 from the Nike store I talked a few others into joining me starting in Hopkinton and timing it so that we could meet up with the group in Wellesley as they were heading out. It would be a great kick off to start the year: http://bobhodge.us/hodgie-san-1986-training-log/
When I moved to Hopkinton my friend Tommy Leonard creator of the Eliot to Scituate run along with Sharpless Jones said "Bobby, I love Boston too but I haven't lived in every town along the course like you have ha ha." He was right I had lived in most of them since moving up from the South Shore in 1983.
Boston still loomed large but many things had changed since I ran my first one in 1977. In 1985 I had worked full time at New Balance as Running Promotions Manager a position I had taken over from Kiwi legend Kevin Ryan. It was a good job and a learning experience but I lacked the temperament and doing business with athletes many if not all of whom you considered your friend made it very difficult to negotiate.
The company had been extravagant spending a large amount on promotions around the 1984 Olympics in Los Angeles and now they were cutting back. There were a new crop of athletes that had come along and many of them had an inflated opinion of their worth not that I blamed them but dude get real.
On New Years 1986 I was heading toward a life less dominated by athletics but I was still hungry to put together a great race at a major event or two.
I had always felt very loyal to New Balance they had supported me for most of my running career but they had also broke my heart.
In 1978 I wore NB racing shoes which frankly sucked especially the spikes. I wore them when some others NB runners didn't because I was under contract and I felt I owed it to wear them and provide feedback try and make them better.
When I was the Running Promotions Manager I once had an athlete send me a pair of bloody NB shoes with a note of explanation why he had worn Nike in the Chicago Marathon with the swooshes peeled off.
My reply "sorry about the shoe malfunction but did you get paid?"
I had another athlete run in the 1984 Olympic 10,000 Meters in Nike shoes with the swooshes torn off and N's sewn on. Jeff Johnson sent me a photo of the shoes with a cease and desist note slightly embarrassing.
I had no big competitive goals in 1985 but I was still running to work and competing here and there and beating some of these guys on a regular basis and then I need to have them come to me with their demands and that was a bit much. Some athletes were also demanding that NB pay their coaches. "Dude we pay you, you pay them."
There was something seedy about the entire business.
I had left that job at New Balance but I was still representing the New Balance Track Club and I had a small contract for $5K enough to keep me afloat with my meager college coaching salary and a few road race dollars.
In 1987 when New Balance offered half of the $5K I got in 1986 I declined and that was the end of that road.
So I decided to return to college and finish my degree and also try my hand at college coaching and in the meantime take a last shot at greatness just to get it out of my system. Perhaps if it went well enough I might continue until 1988 and run the Olympic Trials again but if not so be it I had been a competitive runner and near the top marathoners in the USA.
We began our outing from Hopkinton on that New Years 86 old friend Brad Hurst who I had first met in 1974 when we were students at Lowell Tech and I were joined by a few of the younger crew including former Boston University standout Pat Gillooly. There was one runner I did not know and conveniently I have forgotten his name but he began talking about his coach someone who I thought was just a big self promoter and I shared my views and things got a bit heated.
Well I shouldn't have talked trash about his coach but I figure I had a better perspective than he did and his svengali coach had brain washed him.
The shoe company sponsored teams were beginning to separate themselves from the locals. When I started out with the Greater Boston Track Club in 1974 and we did those New Years Day runs together there was a tremendous camaraderie and rapport and I missed that.
Everything about running in this semi-pro era 1986 felt different to me than it did in 1976 when we were just kids. I felt supportive of the younger runners but their attitude toward athletics was much more calculated and measured not a whimsical bone in their bodies.
Our coach Bill Squires took his lead from Arthur Lydiard famed New Zealand coach but with a bit of his own genius worked into it and as a group of athletes we shared pooled our knowledge passed around books autobiographies of the best and adopted their methods.
Many of the younger runners followed a RUNNERS WORLD less is more ideal and talked about their goals in realistic terms that I did not relate to I was much more of a Walter Mitty. They thought the marathon was the bogy man and would end their aspired to career.
I had one ambitious young runner tell me that he did not want to end up like Alberto Salazar "burnt out" I said "yes that would be terrible winning Boston and New York and setting American Records."
When our little group arrived at the Nike store we had covered 14 miles so we had a short break grabbed some drinks and stretched out a bit before starting out again with the larger group. I knew some of the runners we had joined up with who ran for Nike Boston but had never really got to know them and they were immediately thumping it along pretty good.
I tagged along it was faster than I needed to go so I should have just slowed and run with the next group but I didn't.
When I reached the Eliot I kept going to the marathon finish line as a warm down and then spotted a coffee shop open and went in and had a cup with a few large glasses of water.
I met Frannie back at the Eliot she had run in from Wellesley and we celebrated the New Year at the Eliot Lounge:
https://journal.tracksmith.com/where-everybody-knows-your-name-3550cf3f4ddc
old clubhouse where everybody used to know my name and my feet were set in concrete outside like a poor man's Grauman's Theatre. http://www.celebrateboston.com/strange/runners-walkway.htm I mused and I mingled with everyone brothers' and sisters in sweat. 
Soundtrack Uncle Tupelo this one seems to fit my mood at the time……..