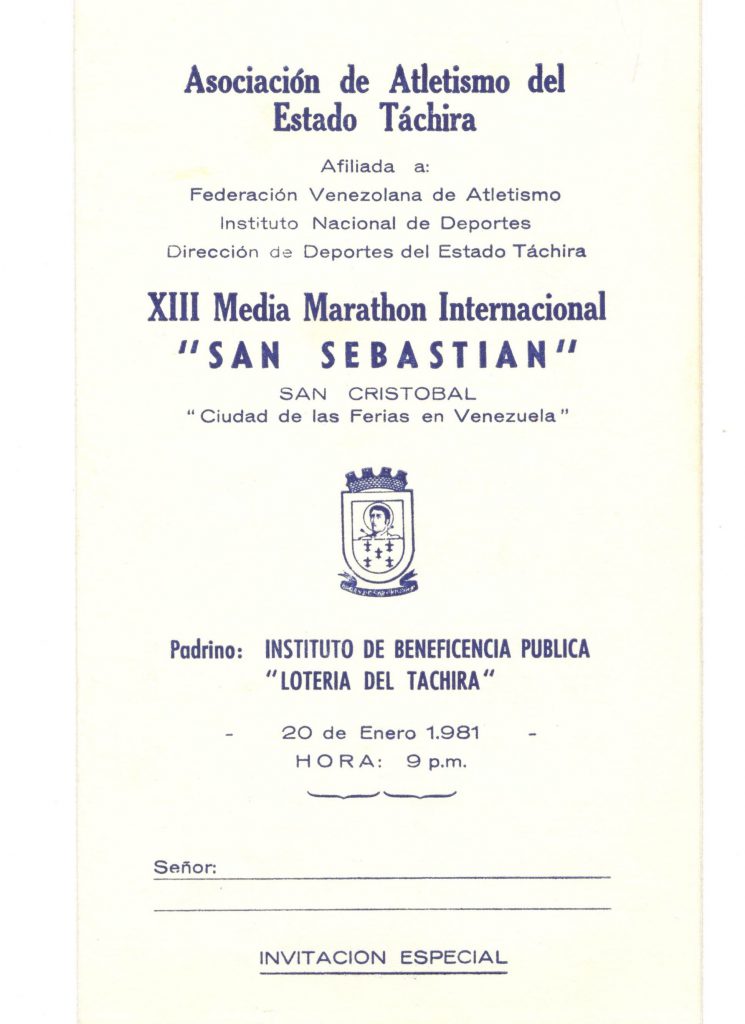 San Cristobal/1981
San Cristobal Venezuela XIII Media Marathon Internacional "San Sebastian"
In January of 1981 finally making some progress recovering from a serious injury to my adductor groin muscles the njury occurred after completing 146 mile week with a 2x2mile 9:44, 9:46 November 2nd, 1980.
I decided to run a half marathon in Venezuela. I received an invitation through The Athletics Congress TAC and accepted back in December with the hope that I would be prepared to give an honest effort.
I had struggled for about six weeks trying to find the best rehabilitation course of action and it became a very frustrating experience among all of the conflicting advice.
I did a fair amount of swimming in an indoor pool and long walks with little jogs. I began a weight lifting regimen with Bob Backus who lived nearby my Norwell residence in Pembroke where he had a gym.
Bob was an Olympian in 1952 in the Hammer Throw.
I had never done much weight work or core exercises and that was a major contribution to my injury, muscle imbalance. Backus had me doing squats three times a week and they were killer in the beginning. I always went for a run after these workouts usually 30 minutes and my body would feel like I was at the six mile mark of the Mt Washington Road Race.
But I felt the strength gaining in my body and it was a good feeling.
I had begun seeing a chiropractor and in the beginning I was skeptical but he gave me some neoprene trunks to wear for support and they helped while I was re-building my body. He also had some dietary suggestions vitamins and minerals to add etc. and he introduced me to the "stick."
Bob suggested some special "medicines" concoctions but I declined.
So, although I was comfy in my little cabin in the Norwell woods by the North River and my running was beginning to come around after a few months of quiet desperation I decided to make this trip to South America and on returning to the states I would spend two weeks in Florida for a respite from the cruel psycho New England weather.
I convinced myself that I was ready to run five minute miles for the half even with a measured effort.
During this difficult period when one minute the "futures so bright I gotta where shades" and the next I am limping around not able to run it was a truly desperate time. I wanted to get back to what I had found to be a thrilling adventure life travelling the world and taking on the competition from Japan to Australia to the UK to Venezuela, man just put a postage stamp on me.
I packed only the necessities and a travel book on Venezuela with some Spanish Language translations. I studied the language in high school and college unsuccessfully. I packed a little world travel alarm clock that my Dad gave me for a specific reason, but that is another story.
I also brought along some Reebok T-shirts to give away to the locals.
I flew to Caracas and then on to another small airport about an hour drive from San Cristobal. No one met me at the airport so I hired a taxi to take me up the mountainous road to San Cristobal and it was a hair raiser.
On arrival I met the race organizers and they brought me to my accommodations a cinder block building with a hose for a shower, good enough. I tried out my best Spanish on them and I attempt to speak Spanish a few stock phrases, "Roberto please speak English we cannot understand, No comprende" So I said, "Oh, you all speak English?" "No, not really."
My pronunciation; I probably sounded like I was speaking Cockney.
I went for a run in what seemed like a poor but thriving area but I began to notice many gated communities and peeking in well they looked quite luxurious. The race would be on a Tuesday night and I was feeling disoriented and paranoid and wishing I was back in my little cabin watching the snow fall. A spirit of adventure is only taking one just so far.
The race was in the evening the climate was shocking warm and humid coming directly from frozen New England. My intestines were bothering me, had to be the water and I was drinking lots. This entire adventure seemed ill advised now all I could do was run my guts out for an hour or so then try and get some sleep before heading back to Caracas.
The start of the race was like a riot broke out and the pack went kamikaze out like a bullet. I tried to settle in but my body mechanics were way off out of synch. We did four or five loops and until you came to the main drag the rest of the loop was in total darkness. I was scared shitless but after the third or fourth loop I was too wasted to care.
I finished in 29th place about five minutes behind the winner. I sat down on a curbstone for a very long time and then got up and wambled to my abode. I had a fitful nights sleep and got up early and went for a thirty minute run. Afterwards I met with the race director and he noticed that I was limping. I tried to convey to him my regret that I was not at my best and ran so poorly.
He owed me some Bolivars but I was thinking he might not pay up after my poor showing. He bought me a coffee gave me some cash and hailed a cab to take me back down the mountain to the local airport. I was nauseous in the cab and nearly passed out from car sickness.
I flew back to Caracas where I had to stay overnight before flying in the morning to Miami. I shelled out money for a ride to a nearby hotel and later when I figured out the conversion rate I knew I had been ripped off. Easy come easy go.
I went for a run and then holed up in my little hotel room sitting on an ice bag watching a little black and white TV and taking stock of the last few day's ramblings. I set up my little travel alarm clock with the continents outlined on it and I pulled out my running log and counted the weeks until Boston. I was hungry but my stomach hurt so I did not want to eat. I had managed to buy a six pack and some tea bags and so I had my liquid diet.
I sat back and contemplated the yin and yang, my philosophy is tomorrow's another day.
The next morning I went for an early run and then caught my flight to Miami. I found a cheap hotel in So. Miami and went for a long slow run over some of the route that I had run the previous winter with Tom Fleming.
I contacted Basil Honikman a friend from my previous wintering in Miami and the organizer of some running events in the active and supportive running community here. Basil and his wife Linda invited me to stay with them for a few days and I was grateful.
After a week in Miami I travelled to Tampa to stay with another friend and his family where I had also partially wintered the year before. I ran Gasparila 15K finishing just behind Grete Waitz in 48:00.
It was time to get back home to familiar routines and I relied on my positive thoughts that I had already come further with running than I might have thought possible. Nothing ventured nothing gained.
Futures so bright…..
San Cristobal notes Journal 1980/81
December 16th—Got a confirmation today from the TAC on a trip to San Cristobal Venezuela. I don't know whether or not I'll be able to go I'm just keeping my fingers crossed. My heal was a bit sore today I think from the long walks in my street shoes. I'm very paranoid, somehow I hope to get myself back together with a little luck and prayers I can do it soon.
December 18th— Got in usual swim this morning my spirits are up and down daily. My adductor-groin seems to be improving. It did not seem to hurt as much today when I put weight on it. I don't want to get too hopeful. I plan on running a few miles on Tuesday and I fervently hope it is OK and that I can get slowly back into training. I received invitation to run the Tokyo Marathon on March 1st but I am still hoping to be ready for Boston.
December 21st— I had a good visit in Lowell with family I'm going to try running a few miles on Tuesday and see how that goes. I was given some neoprene trunks to wear for support and I think that they help. On Wednesday morning early off to Indiana for five days to meet Frannie's family and Christmas Holiday of course.
December 30th— I began running on Tuesday the 23rd and I am still quite sore in groin area but it does not seem to get any worse or better. On my afternoon run it did feel much improved took Jacuzzi afterwards. I am running very slow and still favoring it but at least I am running and beginning to get the strength back in the legs.
January 1st— Went for 2 mile run early and then to the Eliot for the long run to Scituate. Managed to run 10 miles! Felt like crap!
January 5th— finally feel like I am back did doubles for three days today did quarter mile swimming and Jacuzzi A.M. and 6 miles P.M. I am making progress.