In 1990 a student at the University of Lowell a American Studies major I took a class in American Autobiography with department head Cliff Lewis.

After some discussion it was decided being an older student man of my experience of life age 35 I would write my own biography and this is how it turned out.
The night before I wrote this here paper I stayed at my hermit friends house in Chelmsford and I slept on his couch and during the night I got up and visited the bathroom and woke up on the floor blood in my mouth bump on my head. I pushed myself up washed my face assessed the damage took two aspirin and went back to bed.
In the morning I was running the last leg of the Mill Cities Relays for the GLRR. I woke groggy disoriented and threw on my running gear, the men in lemon and green were counting on me.
When I got the handoff I was in second place close to a minute behind. I ran mechanical not feeling especially motivated even though these local clubs take these events way too seriously.
I thought holding my place would be a good effort, under the circumstances. Well, a mile into my 5 miles point something leg I hit my equilibrium primal instinct kicked in click, click double the clutch I was moving up and catching my fellow competitor.
It felt easy now I was in a nice rhythm I ran alongside momentarily considering running it in together, yes a tie I know, I know like kissing your sister.
My competitor team vehicle came alongside us urging my brother competitor on "stay with him Hodgie has no kick" haha.
Okay then so I waited until I was within sight of the finish line and kicked it in I mean we all have a kick just a matter will it be good enough.
I immediately left the scene of debauchery headed to O'Leary Library to work on this here paper well it ain't nothing special a work of gods but writing it was a revelation it was a release felt good.
I spent hours alone in a carrel and it poured out. As I was about to leave Pat Sweeney a fellow student and member of the men's Track & Field team spotted me "Bobby what are you doing here on a Sunday afternoon?" Well, I explained the relay race and he had already picked up my hand written scattered pages.
"Bobby this is good" and laughed, "can't wait to read the book."
War on drugs — Baby Missles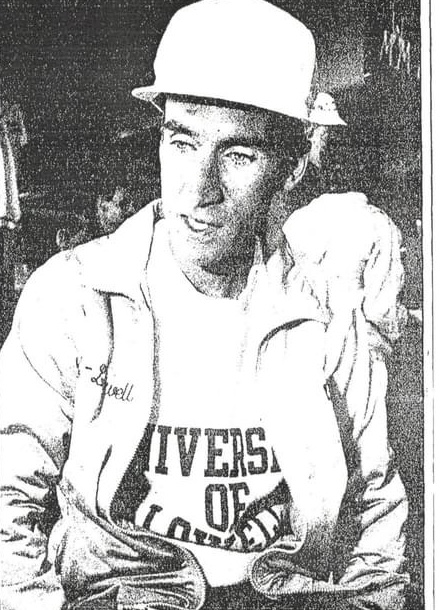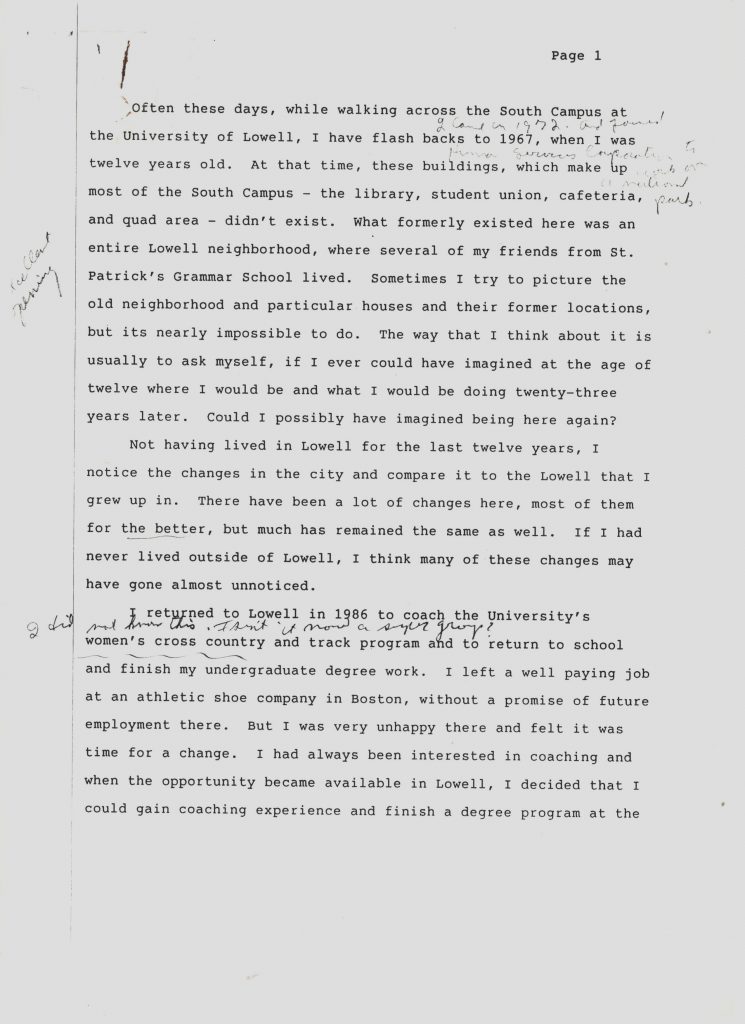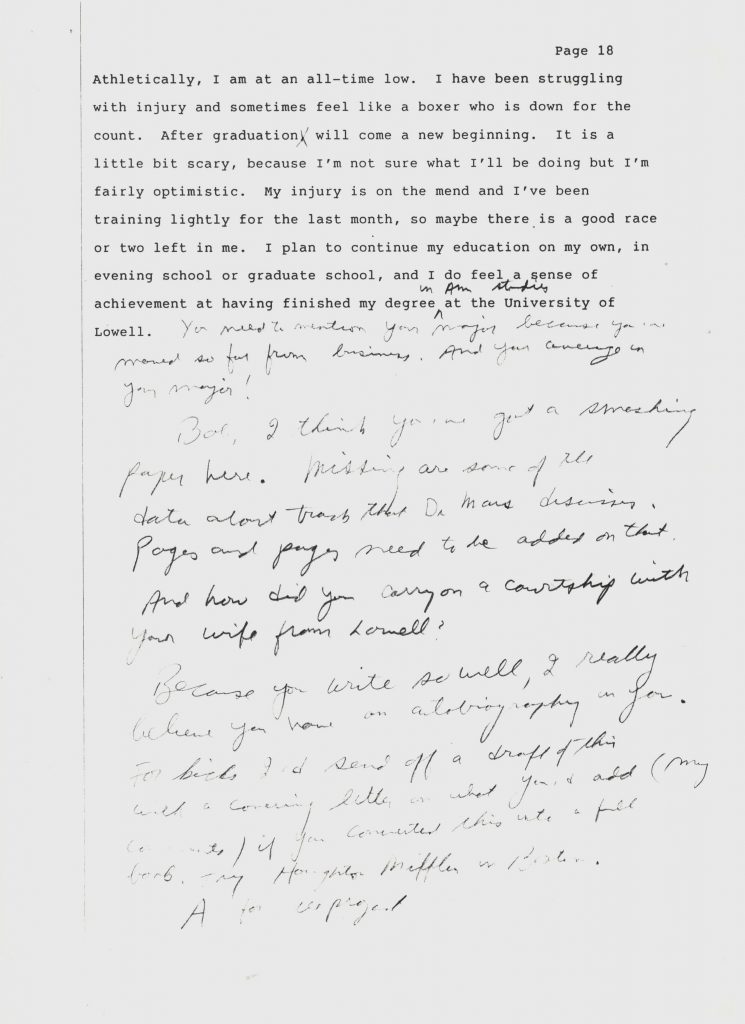 What will follow is the paper in its entirety.
Often these days, while walking across the South Campus at the University of lowell, I have flash backs to 1967, when I was twelve years old. At that time, these buildings, which make up most of the South Campus-the library, student union, cafeteria, and quad area-didn't exist. What formerly existed here was an entire Lowell neighborhood, where several of my friends from St. Patrick's Grammar School lived. Sometimes I try to picture the old neighborhood and particular houses and their former location, but its nearly impossible to do. The way that I think about it is usually to ask myself, if I ever could have imagined where I would be and what I would be doing twenty-three years later. Could I possibly have imagined being here again?
Not having lived in Lowell for the last twelve years, I notice the changes in the city and compare it to the Lowell I grew up in. There have been a lot of changes here, most of them for the better, but much has remained the same as well. If I had never lived outside of Lowell, I think many of these changes may have gone unnoticed.
I returned to Lowell in 1986 to coach the University's women's cross country and track program and to finish my undergraduate degree work. I left a well paying job at an athletic shoe company in Boston, without a promise of future employment there. But I was very unhappy there and felt it was time for a change. I had an interest in coaching and when the opportunity became available in Lowell, I decided that I could gain coaching experience and finish a degree program at the same time. There was also my own running career and my ambition to compete in the 1988 Olympic Marathon Trials.
I had begun running as a freshman at Lowell High School, in 1969. Since that time it has been the major focal point n my life, although that has been gradually changing the last few years. From the day that I was introduced to it, running was the perfect fit for me. The activity was natural to me and the success that I had was positive reinforcement. Most importantly it suited my personality type, which most people describe as quiet, introspective. (I just think that everyone else is too loud!).
Academically, I was at best an average student in grammar school. I remember that I used to have elaborate daydreams in school and was often rudely awakened by the nun's pointer being slapped across my desk. My mother died when I was in the sixth grade. I am still not sure how this affected me, but I vaguely remember going from an outward child to a more lonesome one.
My oldest brother, Bill, was killed in Vietnam, in 1970:

When the telephone call came, I had just gone to bed and was lying there awake. I knew before my dad picked up the phone that my brother had been killed. I've never had that kind of experience again, but it made me believe in the ability to have ESP experiences.
Billy had been involved in a lot of different sports and was a coach of youth league teams in baseball and football. My other brother, Mike, was a good ball player, but I don't think that he ever took it quite as seriously as Billy did.
I enjoyed playing baseball as a youth between the ages of nine and thirteen, but once I began running, I dropped other sports entirely. My brothers and I were also members of the Lowell Boy's Club. Which helped to keep us out of trouble. Each year the club had an annual fitness test, which included all sorts of calisthenics and a rope climb. Everyone who passed these tests got a patch to wear on their jacket or cap. I never passed this test once! My brothers were always the highest scorers, so it was quite ironic that I would become the big athlete in the family.
I don't remember my sister, Irene, ever becoming involved in athletics, but I'm sure that she was kept busy looking after us after my mother died for her to have had a lot of outside activities.
The emphasis that I got on education from my parents was to try your best. On grammar school report cards, we always received a grade for effort. If we did poorly here, which I often did, this would be my parents biggest disappointment. I think that after grammar school, I became side-tracked by the decision of my teachers that I should be in the business program in high school. They felt that the college program would be too demanding for me.
When I was in the eighth grade, some of my friends took the entrance exams for private schools. I was feeling a bit left out of this and decided that I would like to go to a private school, namely, St. Francis Seminary, in Tewksbury. My dad said "no way" and that I would be going to Lowell High School, but I decided that I wanted to take the entrance exam anyway.
So I got up very early one morning and walked all the way out there from our house in the acre section of Lowell. I was too afraid to hitchhike, so I walked the eight miles out there. Fortunately one of my friends was there taking the exam and his mom gave me a ride home. When they heard that I had walked out there, they thought that I was nuts and I don't know if they believed me. A few weeks later, I got a letter saying I would not be accepted to the Seminary, so I figured the nuns were right and I went to Lowell High School.
In 1969, Lowell High School was overflowing with baby boomers and it was necessary to send some of the freshman students to the Roger's Junior High School. The shock of attending this school after eight years in a Catholic grammar school was awesome. The teachers were kept so busy trying to keep control of the class, that learning was an afterthought. The first day of school, l wore a tie and I walked to school with a friend who was attending Keith Academy, which was right across the street from the Roger's School.
When I arrived at school I was ridiculed so severely for the way that I was dressed (especially the tie) that I didn't wear a tie again, outside of a wedding or funeral, for the next ten years.
There was one teacher at the Rodger's school who could control his class and that was Mr. Crowley, the basketball coach. Mr. Crowley taught Civics and I did very well in his class. When I began running well, Mr. Crowley, along with my track coach Mr. Lang encouraged me to take college courses with the idea that I might receive an athletic scholarship to college.
Unfortunately when I began taking college courses in my sophomore year, I was behind everyone else and did not get particularly good grades. The exceptions were in English and History. I believe I could have benefited from another year or two in high school. I had just begun to strike a balance between athletics and school when it ended for me in 1973.
One interest I picked up in grammar school was reading. I used to visit the Lowell Public Library often and read dozens of books about athletic heroes, who started from humble beginnings and achieved greatness. These were the Horatio Alger stories for athletic types.
After I began running, I also began reading everything I could find about it. In high school, I had a part time job setting up tables and calling out numbers at bingo games at St. Patrick's Grammar School. Most of the money I made there was spent on books about track and field and long distance running. After getting a subscription to "Track & Field News", I received a list of books which could be ordered through their library. About once a month, I would receive a box full of hard cover books and excitedly read and re-read them. I remember my dad was a little taken aback that I was spending so much money on these books and remember him asking me, did I really want to be spending it all this way.
From these books, I gained invaluable knowledge about the sport from the greatest athletes and coaches of the day. I know that this knowledge clearly helped me to become a much better runner than I would have been otherwise.
Near the end of my senior year in high school, I was offered a full scholarship to Johnson & Wales Junior College in Providence, RI.
In 1973 the school was primarily a business college, but today it has a worldwide reputation as a culinary arts school.
I had not done well on my college boards and was missing some required courses that I would need to get into a University and therefore never applied to any. I was not very thrilled to be studying business, but my options were limited. I could either go to school or find a job. I was quite flattered to be offered a scholarship even if it was to a junior college, so I decided to give it a try and see how things would go.
Athletically, things went well. I was an All-American Cross Country runner and my track times improved dramatically. Academically I was an average student with around a 2.0 G.P.A. I was quite proud to have the best G.P.A. on the team!
The city of Providence depressed me. Our dormitory building was a converted hotel in the center of downtown. Our team travelled to meets nearly every weekend and this was the highlight for me, after a somewhat dull week in school. We went to Florida for the national championships, the first time that most of us had flown anywhere. I made an abrupt decision after my first year not to return to school. Instead, I began working at Raytheon Company in Andover. My dad had been working at Raytheon for twenty years and my brother had begun working there just a few years earlier.
I was trained to make cables from flow charts and run cards. We were given a three month trial period and our performance was then evaluated. If we were satisfactory we were admitted to the I.B.E.W. electrical workers union.