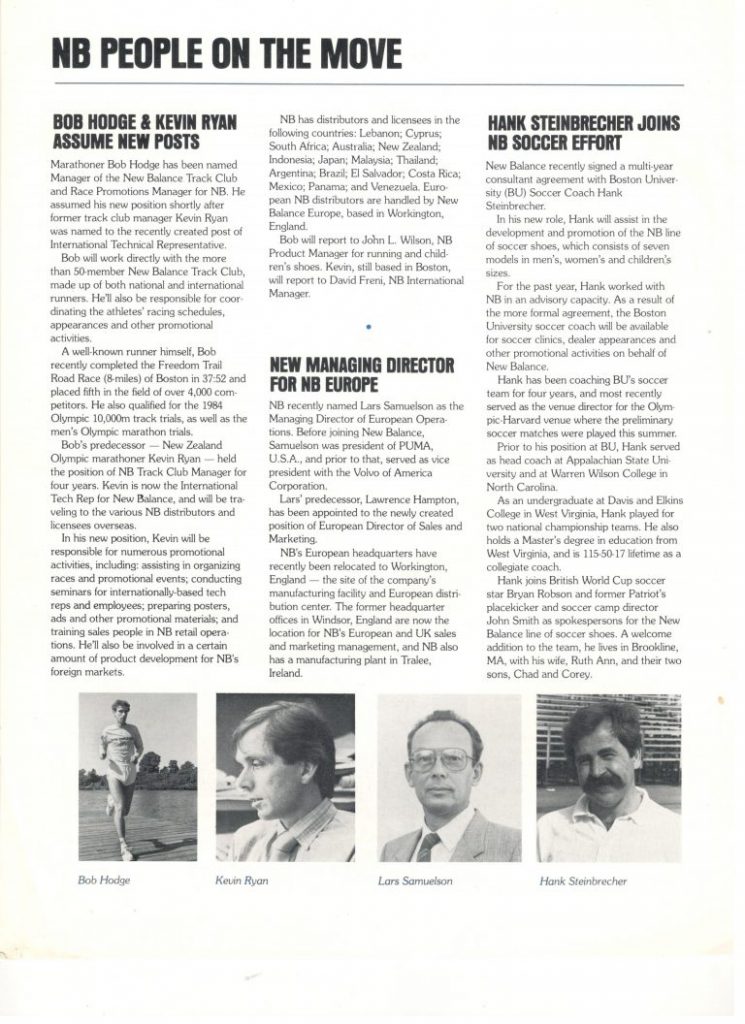 TAC Cross Country
As a young runner, a neophyte, a grasshopper I looked ahead a way's and I believed that 1984 would be my year and for a time it seemed that it would turn out that way but it did not. After finishing 17th at the Olympic Trials Marathon and not advancing to the final in 10,000 m at the track trials I accepted a full-time position with New Balance Athletic Shoes as their Running Promotions Manager.
As an athlete competing for the New Balance team I had worked part time with my predecessor Kevin Ryan a New Zealand native and Olympic Marathoner representing his country. Kevin and I were friends and ran many miles together including from home to work at New Balance almost every work day.
This would be my first full-time job in more than ten years and I went into it with some trepidation. I felt that I had given myself a chance at my running goals and that maybe it was time to settle into a different career not altogether dependent on how well I was performing as an athlete. I struggled with injuries which led to anger, bitterness and doubt. I was going to be thirty, I was planning to get married, wake up pilgrim that journey is over.
So, I began work a world of phone calls, contracts, meetings bitching from the athletes bitching from the sales forces an onslaught that my predecessor had brushed off like a flea. The good thing was that my running became fun again now that not everything was riding on how well I did in my last race or how well I was gonna do in my next one.
At the end of 1984 I travelled to the TAC Convention in San Diego where I represented the New England Region as an athlete representative. I also did some promotional work for NB visiting some stores and winning a 10K road race that a local running shop sponsored. I won a bicycle which I rode back to my hotel a few miles away. So, I did have some fun along the way.
One thing for sure is whether you were in the governing part of Athletics or the business side of Athletics or a race promoter or even a lowly athlete. Our sport is a big confusing mess and to this day operates like a vehicle trapped in a rotary.
In 1985 I had no specific running goals I just stayed fit didn't worry about hitting any mileage goal every week or doing any specific workouts. My racing did not exactly blossom but I did race well. Six months into the job I knew it would not be something that I would want to do long term but I had to get myself through at least a year to show myself I tried and to figure out what was next.
In the late summer and fall I began to assemble a group of NB athletes for the National TAC Cross which would be in Raleigh, NC in late November. We knew Nike's Athletics West would have a great team but we wanted to make it interesting and give them a run.
I had been on a winning team in 1979 with the Greater Boston Track Club when the meet was also held in Raleigh but at a different venue. I started to do regular workouts on the grass, I was now living in S—Wellesley and ran on the Leo Jay Golf Course in Weston a couple of times a week doing some pretty good fartlek type workouts with whoever might be around. One late afternoon with Steve Binns from the UK then a student at Providence College. He ran me ragged all over that course, even the golfers stopped to cheer us on.
As we were warming down Binnsy went into the woods to relieve himself and just as he came out the cops appeared. "What are you doing there?" "Had to go, nature called." "You do that where you're from?" "Yah, I do."
In late October I travelled to Lehigh University in Bethlehem PA for the Paul Short Invitational a well-known race with a tough course and a rich history. I was happy to be getting in at least one big invitational before the National and I was even more pleased when I won.
I made all of the accommodations and booked the flights for our team to Raleigh. Of course, there was some bitching from some athletes about this and that and I confess I told one athlete to F___ Off! I hoped I would kick his ass in the race and I just might have.
I don't remember why but I travelled to Raleigh with Brendan who stayed at my house the night before we left.
Our team was a solid one stocked with internationals, world leaders, national champions milers and marathoners:
Bruce Bickford
Brendan Quinn
Marcus O'Sullivan
Dave Barney
Steve Lacy
The course was run through farms and fields a total mud bath. I was spiked in the heel by Steve Lacy, my own teammate. My shoe was ripped off and I ran off to the side so as not to be trampled and pulled it back on. By then I was in last place and the first person I passed was a guy wearing head phones and carrying a portable radio or something.
I passed hundreds of people, may have taken a short cut or two just to get around the large packs on the smaller trails of the course. It may have been the best cross country race I ever ran but all I had tow was 27th place, just a few seconds behind Steve Lacy who hobbled me at the start. Boohoo.
We finished second to AW who had five in the top twenty. My, heal hurt but I did not realize until I had got back and showered that I had a gash close to the ankle bone. "Bobby, you should get a tetanus shot." "I'll be okay Brendan." "Brendan man, this is the one that got away." "Yah,Yah,Yah Bobby."
That night I got sloppy and gave some other athletes I worked with what for man I was on fire, bunch of spoiled punks. Might have been the infection talking. By the time I got back to Boston my ankle was swollen and a red line creeped up my leg. I wound up being treated at Wellesley Hospital and could not run for a week.
That was enough fun to get me back into the running wars for another go round.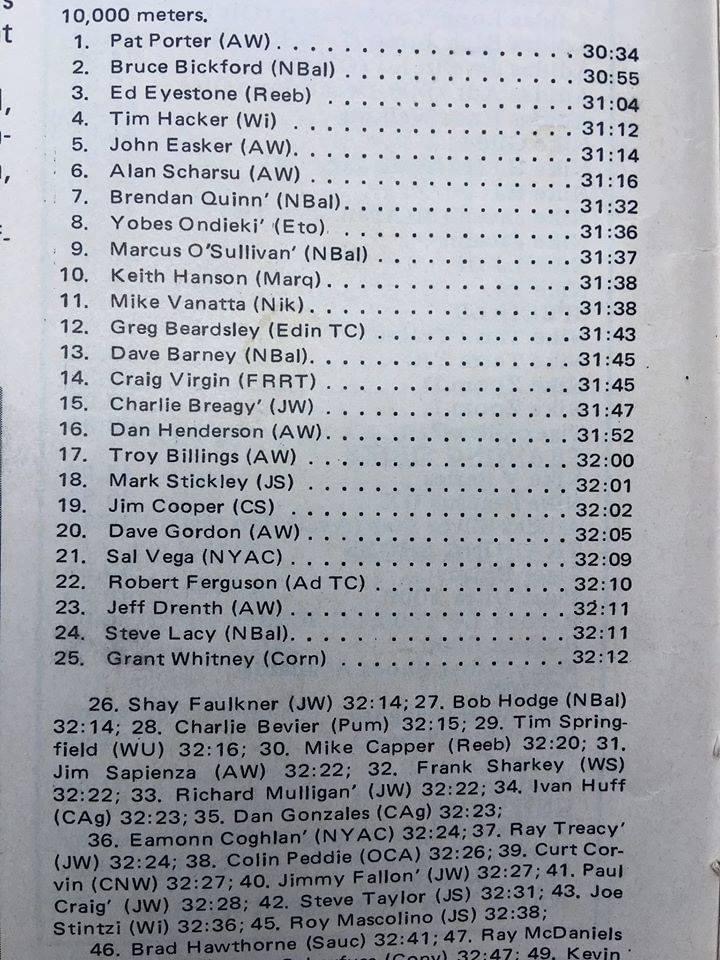 Related:
Bitch: