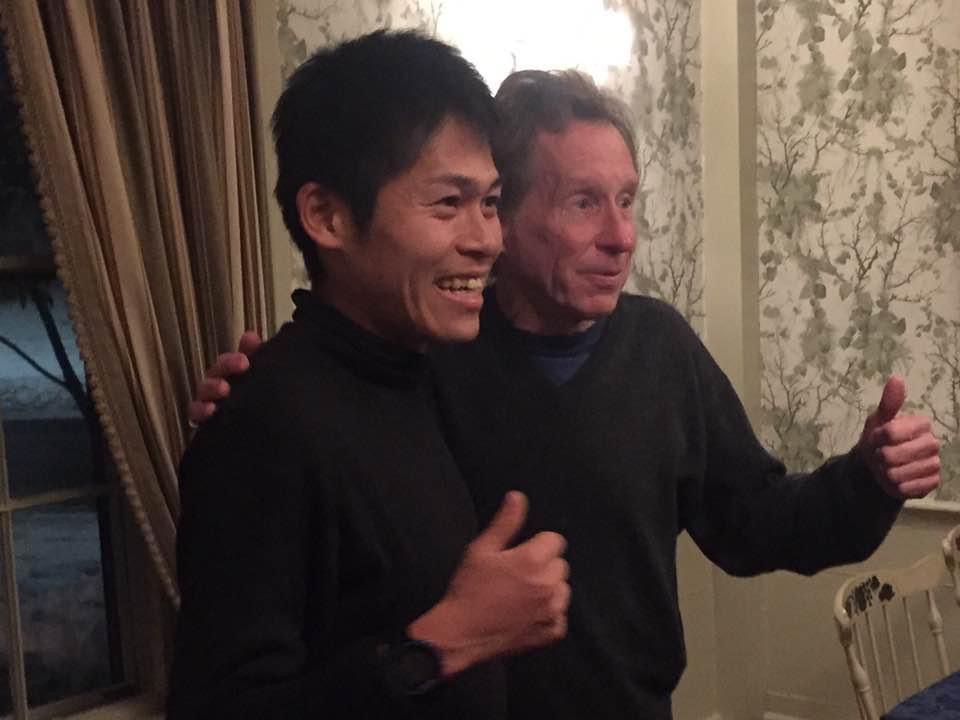 We spent a very enjoyable evening last night with Yuki Kawauchi, Bill Rodgers, Jack Fultz, Mary Kate Shea the Elite Athlete Coordinator from John Hancock and Brett Larner who writes Japan Running News who travelled with Yuki and interpreted for us.
Yuki is in town to view the Boston Course as he prepares to run this race for the first time. Also, while in the neighborhood Yuki will run the Marshfield MA New Years day Marathon with his sights set on running his 76th sub 2:20 marathon! I recommended wearing an extra layer under his shorts. It will be frigid.
I don't get "out" often so I did appreciate the lively conversation with old and new friends. Yuki pursued his meal with gusto and packed away some calories reminding us aged athletes of our past eating performance.
Yuki Kawauchi is a unique athlete prolific and uncompromising and whimsical a tough nut who really seems to enjoy himself with athletics while going against the grain of many of the well-established norms.
His record of performance is astounding and well documented at Japan Running News produced by Brett Larner. http://japanrunningnews.blogspot.com/2017/03/the-miracle-in-fukuoka-real-talk-from.html
I have followed Yuki's career for a while and it seems a part of his success at least is tied to his not being beholden to any of the established teams or governing officials. There is something to be said for having that kind of faith in yourself and it is also freedom from all but self-induced pressures.
It is refreshing to see such an athlete and I believe back in the 1970's and 1980's this was a norm for USA Distance Runners though no one from that era could match Yuki. In the 70's & 80's this was not a choice for USA Runners as it is today for Yuki it was how things were done. No one expected anything from our governing body and nothing changed for the majority before professionalism. It was self reliance with a little help from your friends.
I believe the one true innovation to help distance runners is the fields of Sports Medicine and Physical Therapy. When I developed a chronic injury back in the day they had little or no knowledge of athletes and would suggest you stop running and find something sensible to do instead.
I would bet Yuki uses acupuncture and many cutting edge physical therapy for injury prevention and recovery. He does.
I think that Yuki must have an incredible mind his laissez faire approach might be undertaken by others. Not everyone is made for let's say the Hanson Distance Project or the Nike Oregon Project though they have both had a very good measure of success.
I have known Bill Rodgers for quite a while, 1974 and one day he was touting NOP and particularly Alberto Salazar a former Greater Boston Track Club teammate of ours and I said "Billy, you would not have lasted two weeks with Alberto or any other coach micro-managing you the way they must do." He agreed, too much whimsy in Bill very little in Galen Rupp though there is still time.
The fans of distance running have embraced Yuki in an analogous way to the way Bill Rodgers was and still is embraced. Many runners today seem too mechanical and they very seldom race. Hard to embrace that or establish solid rivalries among the top athletes.
Bill and I agreed to be the Yuki Boston fan club and as Bill was known by his GBTC Teammates as Will-Ha a play on words working off the great Finnish runners at Boston, perhaps Yuki-Ha?
Patriots Day Marathon Thoughts…
Today runners did something about the weather, they dealt with it. This morning after my four miles run in bone chilling rain, snow, and wind I hunkered down with hot tea to watch the BAA Marathon.
I was not disappointed in the outcome as two of my most favorite athletes won. To paraphrase Toni Reavis, "today's athletes have the distance down, conquered but today the marathon struck back and it was a grinders race, a race of attrition and of course in the end Desi & Yuki won."
Class acts and unique individuals we need more Desi and Yuki.
Desi was not a superstar in her youth but she has shown that it is not necessary if you have the determination, dream and support.
Hanson's Desi's training group in MI is one of the best things going for USA running.
What if we gave more young strong minded runners like Desi more support and opportunity then we would be at a level of running that we should be here in the USA.
There are many things wrong in athletics but this should be an easy fix. There are many Desi Linden's let's do right by athletics USA and support them all any way possible.
Yuki is a unique personality and an example in the spirit of seekers Don Quixote impossible dream and doggone went and did it. He marches to his own beat and embodies everything essential to true athletics.
This was one for the ages renewed my faith in athletics. Good things happen to good people.
https://japanrunningnews.blogspot.com/2018/04/how-it-happened.html