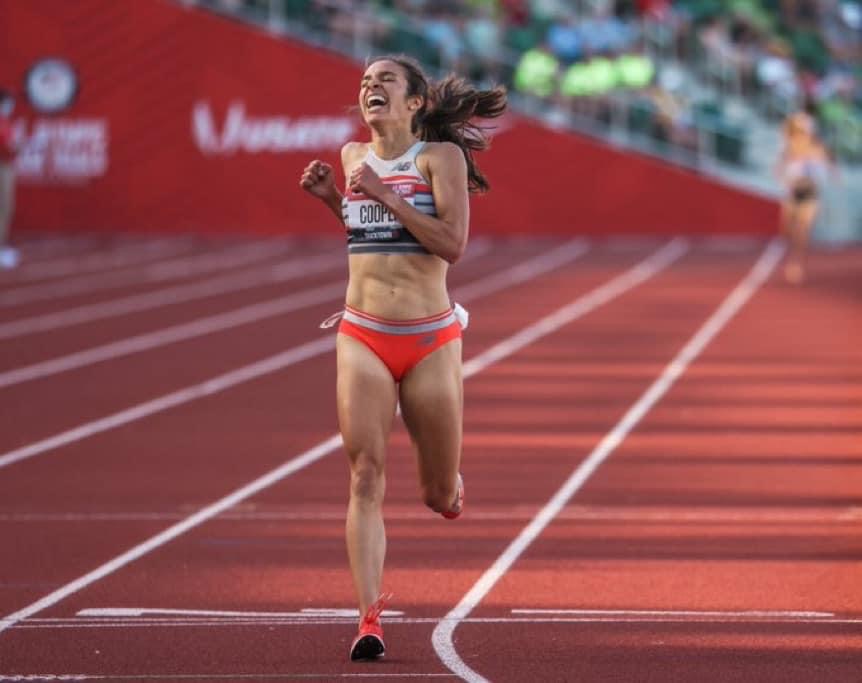 ABBEY D'Agostino You Made My Day
Wow, great first day/night here in Hooterville for US Olympic Trials. Abbey provided a highlight, taking command after a five-minute first mile in her first heat of the women's 5000M and churning out 71-72 second laps pulling way ahead on her own and looking a stallioness while doing it grabbing an Olympic Qualifier with her 15:07 clocking. Finals weather forecast is for extremely hot conditions in the 90's.
I lost track of Abbey Cooper not having kept up I never realized she had married and moved away from Boston and her NB teammates there. She has had a low profile and I might have thought she had just retired and disappeared. She is a threat in the final, go Abbey.
Ryan Crouser new world record 23.37-meter 76-foot throw. Great competition for third spot with veteran Kovacs getting second. The Olympians graced us all with their appearance at the Wild Duck Café after the meet. They canvased the room to great applause and photo op's while replays of the competition were rebroadcast on television.
Ben True ran with a lot of heart in the Men's 10000M but just could not match the finishing speed of his younger competitors, Woody running 53 secs. last 400m to take it. Training partner Grant Fisher was second and a group of us preparing for the Hootie's 5K this morning applauded them as they finished up a training run from their nearby hotel.
Joe Klecker was third and it brought back the memory of meeting his Dad Barney at the Buffalo NY Marathon in 1979. I was there with my friend and training partner Earle Fucillo and him and I and Barney just happened to wind up hanging out together after the race.
Primarily I went to check out the Olympic Marathon Trials course that race scheduled for May 1980.
Alysson Felix looking good for a fifth Olympic Team in the 400M.
Just want to say the new Hayward Field is awesome and light years better than good old Hayward. I hated to see it go as much as anyone but the ideas for preserving it just did not seem feasible. I guess we cannot cryogenic everything. There are still some nitpickers however God Bless them.
Well, everything is not wine and roses some locals object to the entire Olympic Trials enterprise and a protest group from the "Eugene Housing and Neighborhood Defense" carried banners reading "Death to Nike Imperialism" well alright, right on.
Made some new friends as well in section 108 Artie Smith former Cornel Coach and fiancé. Hope they can tolerate a few more days of my babbling incoherent ramblings😀
The Hootie's 5K was run this morning with Ronnie Harris https://worldathletics.org/athletes/united-states/ronnie-harris-14240074 as celebrity starter and athletics historian Mike Fanelli in his New York Pioneers https://www.likethewindmagazine.com/2020/09/18/new-york-pioneer-club-forgotten-heroes-running/ singlet today celebrating Juneteenth.
Fanelli and partner in crimes and misdemeanors Pea Nut Harms bested me by a minute, but hey they got more metal hanging them together screws, plates etc. so not really a fair competition.😀
I finished in a sprint with a 14-year-old girl from Texas she beat me handily. I ran 27:00 and that is way over my head, so I went home and took a long nap to get over myself and prepare to pace myself for a week of trials and tribulations.