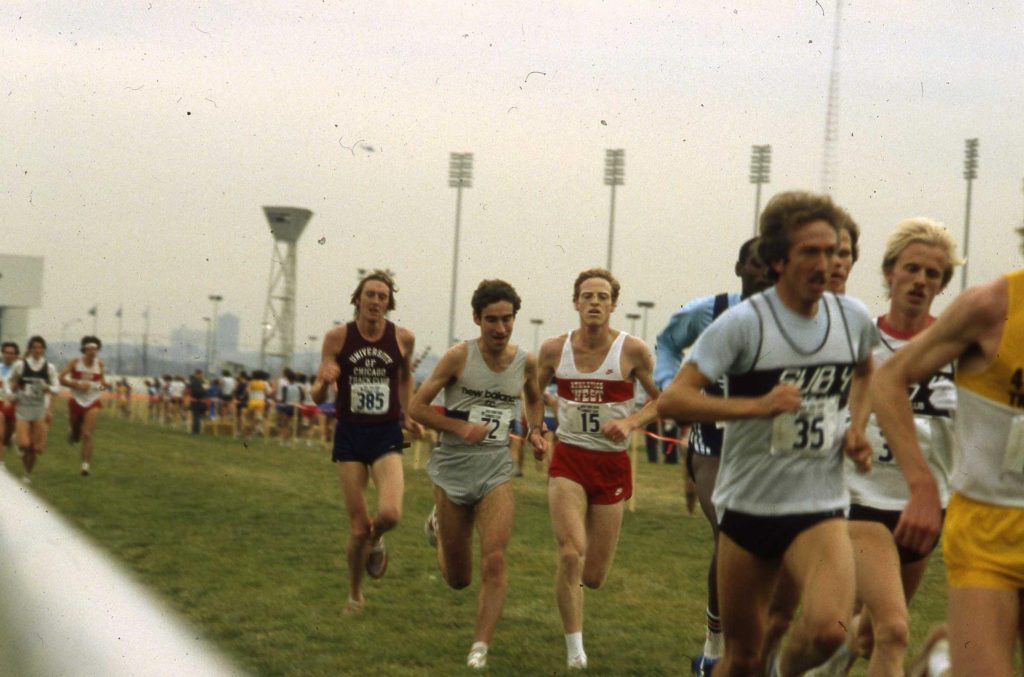 Running Sage Enterprises continuing missives and demented ramblings dusted off along with a feature film of all the action.
Fukuoka 1982
Fukuoka was/is a major race with many years of tradition. It was part of what American Marathoners thought of as the big three with NYC Marathon and Boston. In 1982 London and Chicago were in their infancy. I had run NYC & Boston; I had to make it to Fukuoka.
I was supposed to race there in 1980 my trip guaranteed by my finish at the Nike OTC Marathon in Eugene. Unfortunately I was injured and when I asked if I could use the trip the following year the answer was negative.
At the end of 1981 I was forced to move from my little cabin in Norwell MA by the North River. The owners were selling the property, seven acres and it would become luxury housing in comparison to the rustic little house with goats and my little cabin thated it had been.
A good friend of mine from Marshfield had a summer home at the beach and he offered to rent it to me over the winter. It was not fully winterized but had a fire place and some small space heaters about the same as my cabin only the cabin had a woodstove.
The house was right on the beach. At high tide the waves sometimes crashed into the seawall and often over it into the front yard. Most nights I fell asleep to only the lapping of the waves.
1982 was full of the usual ups and downs but just enough in the way of good performances to keep me coming back for more. I had finally gained a marathon victory at Beppu  in February, but bailed at Boston at the 21 mile point same as in 1980.
I ran track nationals in Knoxville TN and finished 5th in the 10,000 in 28:44 a personal best at the time. I also was chosen to compete in the US v. USSR Track Meet in Indianapolis where I was third in the 10.000.
I was back running for New Balance which had formed a "National" Club NBTC. It was a good group with many Boston locals to train with including Bruce Bickford, Pete Pfitzinger, and Kevin Ryan to name a few. I had also begun working at the NB offices in Boston part time with Kevin Ryan from New Zealand who worked in Marketing and oversaw the NBTC.
I had a solid summer but I was unsure whether I wanted to run cross country in the fall with Fukuoka the first week of December. I decided to compete only on the roads but a week before the National Cross Country to be held at the Meadowlands course later used for the World Cross in 1984, I was asked to compete for the NBTC Team as we had a shot at winning.
Fukuoka which I had pointed for would be held 6 days after Nationals. I remembered that Frank Shorter had won the National Cross Country and Fukuoka more than once only a week apart, so I decided to go for it.
The NBTC Team stayed in NYC near Central Park. I roomed with Paul Cummings who I would be travelling to Fukuoka with on Monday after the National.
I was in awe of Paul, his versatility as a runner truly remarkable a 3:56 miler, winner of the Millrose Mile in 1976 and a 2:11 marathoner. His only weakness seemed to be Cross Country. He was a prolific road racer throughout the 1980's setting a World Half Marathon best in 1983.
At a road race somewhere we were at the press conference and Paul was asked a question about his family and did his wife mind much his travelling the world competing and Paul responded, "not as long as I come home with a check."
Paul was always on an even keel never getting upset by a poor race or overly excited about a good one, unshakeable. Paul died in a boating accident in 2001.
I ran a solid race at the National finishing 9th and first man for our team. Unfortunately our team faltered and we were never really in contention for the win. It had been a very cold and dry day for the race and our hotel room also very dry, I began to feel an attack of exercise asthma coming on.
Paul and I ran six miles on Monday morning around the edge of Central Park. I was having trouble breathing and both of my hamstring muscles were tight and sore. I began to regret having run the National and jeopardizing all that preparation for Fukuoka.
We flew out to Japan that afternoon. This would be my third trip there to race so it felt almost old hat. The Japanese were great hosts but I noticed that they always kept the foreign athletes busy with sightseeing, shopping and the course tour. You never saw any of the Japanese runners until race day. I determined to hole up in my room as much as possible on this trip and re-read Shogun.
At this time Paul did not have much experience of the marathon and he was interested in my training. He did everything I did in the days leading up to the race including a mile run on the track in 4:29. The purpose of this run was to give your body a reminder, to keep it in touch with faster paced running and not get too lethargic tapering before the race.
It wasn't easy trying to get away with not attending the planned activities. I did not want to offend my hosts but I was there to race, not to be a tourista. I hung out the "Do Not Disturb" sign and I would hear them knocking on my door, "Hodgie-san, you come shopping, you come course tour, you come dinner." Each time I chuckled a little and went back to napping and eating some snacks. I was afraid they were going to get a key and break in on me and I would have to hide under the bed or in the closet.
Race day, I felt good raring to go. The pace was fairly modest 1:06:15 at the half. The course is a pancake straight out and back turning around a traffic cone at approximately half way. The start and finish were on a track.
At water stop around 25K when everyone in the lead pack veered off for refreshment I surged a bit and held a slight lead for several miles. At 40K my hamstring cramped and I came to a dead stop. I massaged and cajoled myself back into action but it was a painful and frustrating last 2K.
I finished 5th in 2:11:52 my second fastest time ever.
December 5
Fukuoka Marathon (Japan) – 26.2m
1. Ballinger  NZ  2:10:15
2. Kita  JAPAN  2:11:09
3. Lafranchi  SUI  2:11:12
4. Itoh  JAPAN  2:11:45
5. Hodge  USA  2:11:52(5k-15:22; 10k-31:12; 15k-47:09; 20k-1:02:55; 1/2m-1:06:16; 25k-1:17:58; 30k-1:32:59; 35k-1:48:11; 40k-2:04:27)
6. Edge  CAN  2:12:09
8. Layman  USA  2:13:03
9. Hadtsu  JAPAN  2:13:40
10. Boileau  CAN  2:14:00
At the post race festivities a new tradition had been started by of all people Tommy Leonard. In 1977 a collection was taken up at the Eliot Lounge to fund Tommy to Fukuoka. Bill Rodgers had been telling Tommy for a few years just how great it was to race in Japan and Tommy was happy to go and see for himself.
Tommy brought his harmonica and suggested each athlete sing a song identified with their country. The tradition endured. The singing was comic relief entertaining especially from our normally stoic fellow competitors.
I meditated on my future running plans while digesting the year in review. Certainly I was among the top American Marathoners. I needed to make one more play at the Olympics even if it was a long shot. My initial idealism had faded with the 1980 boycott but there was still a flicker left. If not open professionalism was right around the corner, right?
After all I am only 26 years old.
 "Life is short, even in its longest days."  Mellencamp