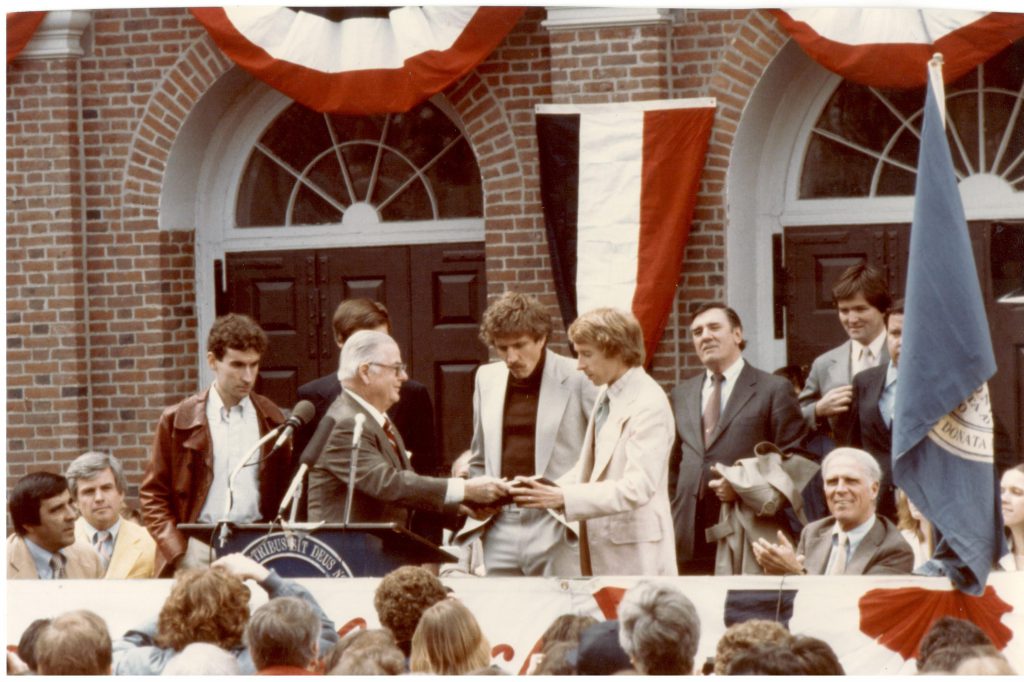 As 2015 slides into 2016, we offer a New Year's story written by guest blogger Bob Hodge, a Lowell, Mass native who was a charter member of the Greater Boston Track Club.
A graduate of the University of Lowell, Hodgie went on to finish third in the 1979 Boston Marathon. He has also won the Beppu-Ōita Marathon in Japan in 1982, while setting his personal best of 2:10:59 finishing second at the 1980 Nike OTC Marathon in Eugene, Oregon.
The following is part of what made Boston a running Mecca in the 1970s.

by Bob Hodge
New Year's Eve 1975 I was headed out the door onto the mean streets of Lowell Mass. to a house party in Pawtucket Ville. I had on my leather coat, the one I had bought from Bill Rodgers when he was still down and out — double-breasted heavy cow leather purchased from some artiste in Provincetown. Yes, I had that on, but just as I was about to leave the phone rang.
"Hey, Hodgie. We are meeting at the Eliot tomorrow at noon for a long run down to Sharpless's family home in Scituate. Are you in?"
It was friend and University of Lowell track teammate Vin Fleming calling from his place in Boston. I told him I would plan on coming, but if I didn't arrive at the appointed time, well, you know what to do.
"Okay," said Vin-ho, "but if you don't make it you will miss out on a great pahty (sic)."
So out the door I went as my friends were waiting in the car out front.
"Hodgie, that coat looks like something Mick Jagger wore in the 60's," said Richelieu, my French-Canadian friend.
"Gimme a beer," I said. "Will Lee Ann be there tonight?"
"Of course she will be there. We're going to her house, peckerwood."
"Hey Fishman, what's the train schedule to Boston look like tomorrow?"
"Holiday schedule. Why, you got something going on in Beantown?"
Steve was my Greek friend whose dad owned a fish market. He was on his way to becoming a train conductor.
"Yeah, I am meeting some fellow runners at the Eliot Lounge at noon and we are going to run down to a house party in Scituate."
"Scituate?!! Hodgie, are you crazy?! How far is that?"
"I'm not sure, probably 20 miles or so."
That's part of the thing about running, friends that didn't do it could never comprehend the distances involved. Anyway, the party was the usual drunken debauchery. My friend hugged Lee Ann at midnight and I did, too – unfortunately, no more than that. Not long afterwards I was getting tired and bored. So when no one was paying attention I just up and left and started walking home.
By then it was nearly 2 a.m., and it wasn't long before I got tired of walking in the cold and snow. Traffic was down so I started a slow trot, you know, just to generate some heat. Before I knew it, I was running at a pretty good clip, intoxicated and wearing that heavy leather coat. As I proceeded through downtown Lowell running down the middle of the empty streets a cop car pulled alongside.
"What the hell are you doing running in the road like that?" one said out the side window.
The coppers did not look amused.
"Sorry. I am just heading home to Centerville."
"Well, get out of the road and quit running. Jesus, kid, we thought you were a robber."
"Okay."
As soon as they were out of sight I finished my run home; just a few miles all told. Next morning I was up early, grabbed my running kit and headed for the train station which was only a couple of miles away.
America's bicentennial year dawned clear and cold in Lowell, nobody on the streets. I needed a coffee bad, but it looked like nothing was open. Then I remembered the Owl Diner, open 24 hours and right on the way.
When I popped in it was a sight to behold. Besides being dark and damp, the place was frigid, laced by a wind coming in through a broken window. At a table to the right two guys were sleeping their night off face down.
I sat down at the counter, and waited a minute before a waiter came out chuckling and said, "What will you have, the special?"
"Just coffee, please."
I slugged down a cuppa and headed to the train station which, like much of Lowell was old and worn out and depressing. I wasn't really sure of the schedule down to Boston, but fortunately I only had to wait about twenty minutes, and reached the Eliot Lounge on Mass Ave. earlier than expected.
Fortunately, our bartender pal Tommy Leonard was there and he let me in. We had some more coffee and talked about the upcoming run. As always, Tommy's enthusiasm began to get me, and I felt a bit of a rush of adrenaline to get started.
Tommy had started this run to Scituate the previous New Year, finally getting down to the South Shore in the back of a cab after visiting some establishments along the way.
Soon, a group of us that included Scotty Graham, his brother Kenny, Vinnie Fleming, Bill Rodgers plus Tommy and Sharpless Jones (and assorted others from the GBTC) began the journey south.
It was easy running in the beginning. The air was sharp against our cheeks, but at pace all else was warm as a bun in a toaster. But then around 15 miles in I started to feel some fatigue. Nothing serious, but I hadn't done many runs of 20 miles in my running life until then, so this was something of unchartered territory for me.
As per plan, Tommy and Sharpless jumped in and out of a cab along the way, creating little water stops for the rest of us. I thought about jumping in with them a time or two, but managed the entire distance, arriving down in Scituate after a little more than two and a half hours of running.
All in all, we were just a little the worse for wear, all except Bill, of course, who looked unfazed as he already had his sights firmly set on the U.S. Olympic Marathon team later in the year.
After we got to the Jones' residence, we cleaned up and changed, grabbed snacks and drinks, then sat around the large fireplace and nestled in the warmth listening to the New Black Eagle Jazz Band and watching the series of college bowl games as we runners mingled with the extended Jones' family and friends. Life was good, this running life.
Over the years we would all have many such running adventures, including more New Year's long runs south to Scituate. Our generation of runners had more in common with the old style runners like 1957 Boston Marathon champion John J. Kelley than with the professional runners of today — not that we didn't want money and status to accompany our efforts. Bill harped on this constantly sometimes to comedic effect.
Forty years out from these events reminders of my running life are everywhere it seems, on the web, in social media and especially in my head. Writing is one way of remembering and sharing. Neil Young penned a song about sitting down and writing a long letter once.
One of these days
I'm gonna sit down and write a long letter
To all the good friends I've known.
One of these days,
One of these days,
One of these days,
And it won't be long, won't be long…
END
(Thanks to Hodgie for the memorable post. Hopefully, it will spur him to write more.)
P.S. from Hodgie regarding the leather coat:
"Unfortunately it was not a happy ending for the coat. It was convicted in the court of public opinion by fashionistas of going out of style and never coming back.It is sentenced to death and burial at the bottom of the Clinton (Mass.) capped landfill."
This from Bill Rodgers:
"I just wish I had that damn coat back! I bought it in Provincetown when I still had my 650 Triumph Motorcycle; it was my Bike Coat..cost me money I borrowed from Jason Kehoe; just like the money I borrowed to buy my Triumph! I recall some great chili at Sharpless Jones place..And it was a long haul run! Happy holidays for sure! We runners got some good ones!Bill
First in a trilogy original published TonyReavis Wandering in a Running World blog.