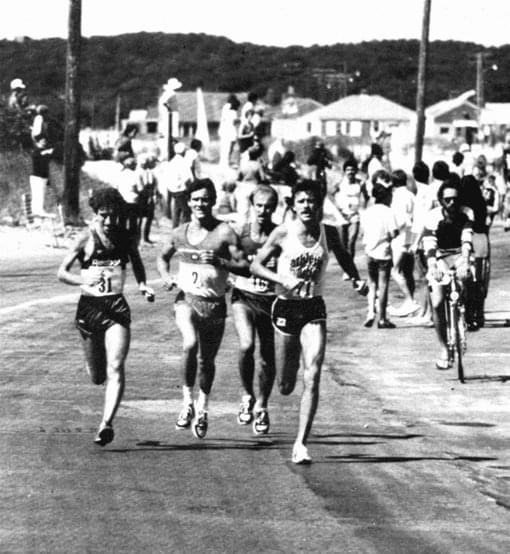 It is the summer of 1974 and I am working full time a member of the International Brotherhood of Electrical Workers Union and I am ex college athlete a runner at Johnson & Wales JC. A quitter not quite through my first year bored with the prospect of being educated against my will and not on my terms. Yes, I was that much of a pain in the ass.
I continued running on my own half heartedly and struggling with a knee injury until one day in August I picked up a newspaper with an account of the Falmouth Road Race and saw that my old friend and teammate Vinny Fleming had finished in tenth and that seven of the top ten ran for the new running club Greater Boston that Vinny had told me about.
"Yah Hodgie Tommy had girls in bikinis' handing out cups of water and beer and everythang!"
The winner was Will Rodgers and he beat Marty Liquori one of America's best ever milers. Will was quoted "I would be embarrassed to let a miler beat me in a seven mile race" Wow, you tell him Will-ha.
After reading I immediately suited up and went for a run and I decided I would look into this Greater Boston Club. It looked like a way for me to continue my running with some like minded fellows most of whom were older and college grads. I was just 19 years old and all I wanted to do was run win Boston and go to the Olympic Games.
Liquori had gone to the Olympics and Will beat him and then in Manchester CT last year I had a close battle with Will so really why not? Tee hee hee.
So then the Falmouth Road Race turned me around and I left my job and went back to school at Lowell Tech mostly I focused on running. In the winter of 1975 I first met Falmouth race founder and Eliot Lounge bartender Tommy Leonard. Later that year when I officially joined Greater Boston I met Coach Bill Squires and meeting them both was pivotal.
Now it has been over forty years since my first awareness of this race and I have had a history there left part of myself out there on the course never notched a win in 1980 got fourth place one of six top ten finishes.
For a number of years in the 1990's I stayed away but always followed the results and made some comparisons to past races. At some point I started going down to Falmouth again and joined a motley crew long habituated where to be on a certain August weekend.
At a favorite hotel right at the finish line friend George bided his time and finally landed the best room the "Crows Nest" with a view of the ball field and finish line. Many of the same people return everyone knows what to do.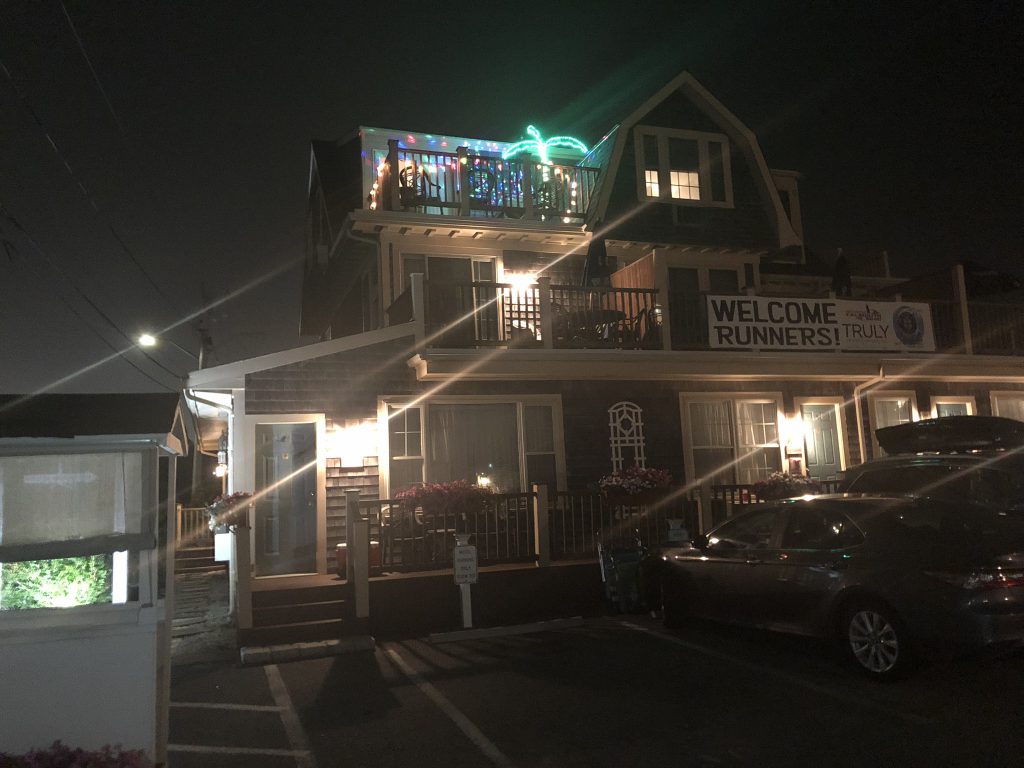 Last year I arrived at said hotel "where is the big guy?" "You mean George?" Si Jorge" "He will be here soon, did you know George is a famous American runner with specialty in Steeplechase event?" "Nah our Jorge?" Yes like the horses leaping over the barriers Jorge in 1977" "Okay sir but not anymore."
Falmouth grew very quickly in the early years and overwhelmed the race course a narrow road along the waters edge with both the quality and quantity of the racers. In the early 1980's 1983 in particular nearly one hundred men broke five minute pace last year eight.
Technology allowed the fields to get much larger but somehow somewhere along the line the race went semi pro and the prize money has fluctuated greatly lately in a downward and so we now have the same depth as 1976.
Just an observation but this event spurred excellence along when it began I means where are all the "Wannabe Distance Gods" today?
Since I will not be able to attend this years festivities I recently stole away an afternoon to Falmouth on a weekday afternoon where I jumped out at Woods Hole and ran the course to the Falmouth Heights finish line.
My hip was tight and my knee it ached and my calves were tight but other than that I felt pretty good. I ran very easy 11 minute miles are probably why. Normally I chase friend Hawk running a blistering 9 minute pace with Marty and Brad a bit behind wondering why we are red lining it what is supposed to be just a stroll down memory lane.
I torture Hawk with stories of my past races how I was ahead of Shorter here and beside Alberto there and passed Randy Thomas there etc. Finally I here a rapid "Ding, Ding, Ding" this is our signal that we have heard this one before please stop.
After my lonely and enjoyable run I go for a swim in the ocean and then hit the BBC for a beer and some water refreshment. I ask if they will call me a cab back to my hotel but surprisingly to me they refuse.
So I began walking close to two miles but shortly I was bored and thirsty so I began to jog and after a bit I did start to feel real good better than at any stage in my run over the course and I fairly well hammered all the way home. What a strange and magnificent mysterious thing is our own bodies.
I met a few friends and had a swordfish dinner at the QD Tommy all ready back home in bed but my plan was to meet him at his bungalow in the morning for a visit.
When I arrived he was having his coffee and muffin and reading the newspaper. Tommy will be 85 soon "Bobby did you ever think I would make 85?" "No."
Like any conversation with TL always a pleasure. I showed him a recently discovered You tube Video from the 1977 Boston Marathon some of which was shot at the Eliot. In the lead up to the race author Joe Falls had written a book about the Boston Marathon with a chapter on Tommy and we all seemed to be reading it at the Eliot as the film crew ask a few questions.
Also a great segment with "Squires Flyers" at Boston College track.
Tommy loved this though he mysteriously is not in it.
I drove home with yet another memory of the Falmouth Road Race a race that has not happened yet this year and one which I will not be attending just keeping the spirit alive.