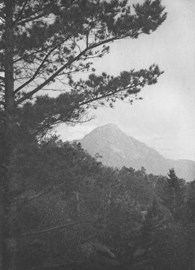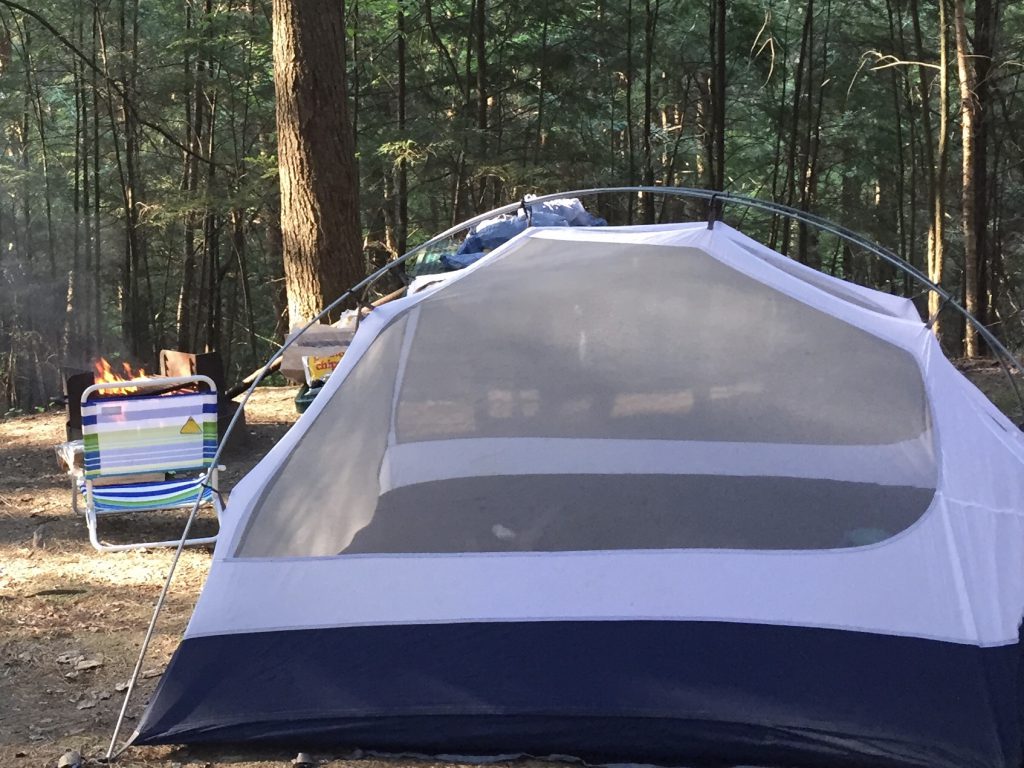 KTAADN
Seven hours from Clinton MA the Saturn landed, Baxter State Park Abol Bridge Campground Fathers Day Weekend 2006 wife had asked "what would you like to do this weekend" it being Daddy Day and all, "I would like to hike Mt Ktaadn" said I, "well, have fun."
I began pulling my tent from the car and slapped at black flies as I set it up. There was a moment of panic when I could not find the stakes but just as I was about to give uplooking I pulled out my hiking boots where I found the stakes tucked inside.
I had only used this tent once before when I set it up in my hermit friend's front yard where he has views of Kinsman and Cannon and many others of the highest peaks in the Franconia Ridge of NH White Mountains. I bought the tent at Hilton's Tent City on Friend Street in Boston near North Station where I often window shopped and fantasized about hiking trips I would take and one day overcome with optimism I purchased this tent all seven pounds of it and I stuck it in the way back of my car where it sat unused for a couple of years and rarely used after that.
Once the tent was up I next needed the campfire and once that was done I could relax and rest up for approximately 15 miles hiking starting early tomorrow morning. I sat by the fire with a sandwich and snacks and cold beer. It was late afternoon and I was unaware of any other campers around.
I read for a while "Maine Woods" with Thoreau account of his outing here in 1846.
But the place which you have selected for your camp, though never so rough and grim, begins at once to have its attractions, and becomes a very centre of civilization to you: "Home is home, be it never so homely."
It was still light out when I crawled into my tent and isalways a nice primal feeling to lay flat down upon the ground the faint outline of giant trees visible all around roots under me cradling me to sleep in my wildest dreams.
As I lay reading I heard someone calling my name turned out to be a park ranger stopped by to remind me to sign in at his station before leaving for my hike to the summit in the morning.
I would be making this outing alone as I had not been able to convince any of my regular hiking buddies to come and that was fine with me just as the long ride alone in the car had been a time to let my mind wander and plan in expectation of the day. I was 50 years old then with a bum knee from a car accident so I didn't want to put off this opportunity to get Ktaadn summit under my feet and remember the day I spent there and stop wondering when I would ever get here.
I did need to do a job interview with a law firm located in Chicago and I don't know why I was bothering as if I would ever leave New England for the windy city.
I had just recently purchased a cell phone and barely had any idea how to use it and so I pulled off of the interstate and found a hotel coffee shop and dialed in. I thought that the interview went well but like so many others it didn't work out in the end. All of the strange and weird ups and downs of my former library career in law firms well behind me now.
I arose dressed slugged down some ice coffee and water broke down my camp site and staggered off in the direction of the trail after checking in at the ranger station. It was already warm and bright sunshine and after just a few miles meandering along through the woods I came to an opening vast and wide and the trail soon became a collection of loose rocks.
The sun was baking and in the 80's and the black flies vicious little teeth with wings. I was way overdressed and stopped to unzip the bottom half of my fancy pants so the black flies would have a chance at my legs too. After a time I just let the little devils have their way with me while I enjoyed the beautiful scenes of the day through the swarm.
Abol is a tough trail but more direct but the reason I chose it was that the easier Saddle Trail was snowed in and not yet open for business. I made steady head way but the entire time thinking "how the hell am I going to get back down."
I spent most of the time hiking looking down at my feet and at one point smacked my head into a giant boulder above me nearly knocking myself out. As I pulled myself up out of the last steep section onto a grassy area I lay on my back and looked to my right just as a guy with a hang glider was jumping off of the mountain!
I did not spend much time at the summit or do the knife edge after venturing a short way I vertigoed my way back. I began wambling down the trail the way I had come but it was so treacherous that I just sat on my butt and scootedmy way down going at least a mile that way before getting upright again.
Young women in tights looking like they just came from yoga class and little kids hopped skipped and jumped around and by me as I slid around on the ground like a snake only to avoid falling hundreds of feet.
Once back on my feet I took stock of myself did a little inventory and hiked on hungrily with renewed vigor I had after all nearly completed a hum dinger of a hike. I was back in the woods now feeling the cool in the shade the itch and burn of my skin anticipating a swim in Echo Lake on my way out of the park.
Just then I heard some scratching as two bear cubs scampered up a tree and I could feel the presence of Mama Bear and smell the presence but I was so knackered I just continued on in a general direction away from the bears, "go ahead eat me."
At some point I realized that it was Mt Washington Road Race day and that I had found a more than worthy challenge for the day.
I returned to the Saturn and regretted not taking more pictures it being not the first thing on your mind while trying to survive under duress. I swam and revived myself in Echo Lake then stopped at a McDonalds in Millinocket and bought a large Coke and a whole lot of junk food with extra fries.
I pointed the Saturn across western Maine toward the hermit house in neighboring NH. I had some pretty good wildlife sightings of course the bears and also turtles, snakes and an Eagle but no Moose.
I landed at the hermit house and drank all his beer while I waited for him to arrive home from a golf outing no doubt. As I sat watching the sunset over the mountain along came a moose walking right up the driveway stopping to snack on the trees.
Not a bad day.
"Though much is taken, much abides; and though
We are not now that strength which in old days
Moved earth and heaven, that which we are, we are;
One equal temper of heroic hearts,
Made weak by time and fate, but strong in will
To strive, to seek, to find, and not to yield."
Tennyson