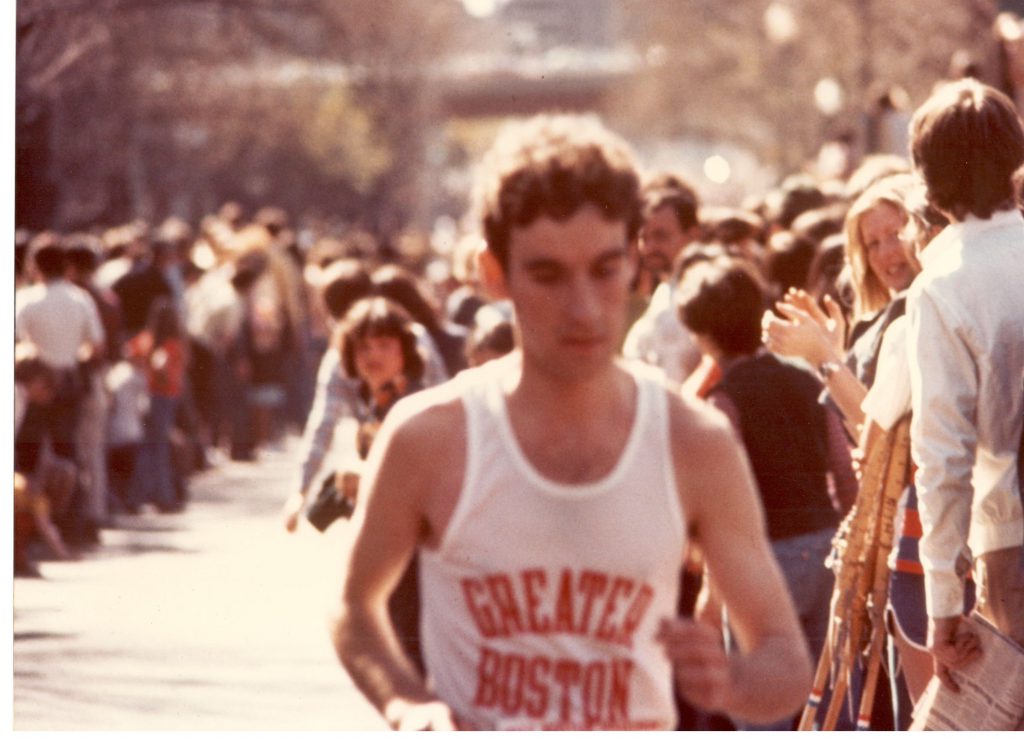 I decided to compete in the 1977 Boston Marathon after I made the decision to leave the University of Lowell. Suffice to say I'd had enough of college for now, and was planning a cross-country travel adventure with my friend Ronnie for the summer of 1977, and perhaps beyond.
I got a job at a local supermarket so that I could save money for the trip and pay my keep at home with my parents. In early January, I began a routine of running mostly on my own, and once or twice a week with my GBTC mates in Boston, or at the Tufts University indoor track. On Sundays we often met in Natick, on the marathon course, for longer runs over parts of the Boston Marathon route. Afterward, we often replenished with a Fribble (a super thick milk shake with ice cream) at Friendly's.
In February I ran the Silver Lake Dodge Marathon in a snowstorm. It was a fiasco all the way around. The race started in Hopkinton and ran the marathon route for the first twenty miles before turning at the top of Heartbreak Hill and heading back to the Newton Car Dealership finish.
I ran the race as a qualifier for Boston, and to view the first half of the course that I had never run before. It was a totally miserable run, as I neglected to bring a hat or gloves, and ran with my long sleeve shirt pulled down to cover my hands. Usually that was enough. It began to snow just before the race started, and I finished frozen stiff. I was especially concerned for my penis.
I finished in seventh place in 2:47, so mission accomplished in my first marathon. I recovered quickly, as it was a low key, if trying, effort. In March I ran another marathon in Lowell in 2:42. Just another long Sunday run. In the fifteen weeks before the Boston Marathon, I averaged eighty-five miles a week and had five weeks where I ran more than one-hundred miles. I was well prepared, so I thought.
I got a ride to Hopkinton from my friend Stevie. Due to heavy race traffic, he dropped me at the exit at the highway, and I walked a couple of miles to the start area. Stevie then headed into Boston to await the race finish.
After running all those miles in mostly harsh winter conditions, it was hot, relatively, on Marathon Monday: sunny and 77 degrees. Not quite the inferno "run for the hoses" that '76 had been, but not good for me.
I did not have a specific time goal, and my approach was to compete by "feel," feeling out the competition, many of whom I had competed against in other races. I also planned to read my own body and measure my effort by applying all my preparation. In 1977 there were no official mile splits. The splits were at historic checkpoints. Crazy as it seems today, the checkpoints were at the following distances in miles; 6.75, 10.5, 13.75, 17.75, 21.5, 24.12 and finish. The newspapers always gave a listing of the top ten runners at these specific distances as part of their coverage, by far the most reliable part.
Joe Concannon, who covered the race for the Boston Globe and in June would become the founder of the Litchfield Hills Road Race in Litchfield, Connecticut, his hometown, picked me to finish tenth. I thought that was a reasonable goal, if perhaps a bit ambitious in my first serious attempt at the distance. I was twenty-one years old.
At the ten-mile point in Natick I was adrift of the leaders and a fear gripped me. There was a long way to go, and I was already zapped. As a survival method I began to look around at the crowds that lined the route, and the families with young children that held out little Dixie cups with water.
Eventual race winner Jerome Drayton from Canada lambasted the race organizers for a disorderly start, where he was nearly knocked down by the stampede of three thousand runners, and also for the lack of official water stations. The race was having growing pains, even with the newly created qualifying times.
Drayton was a prickly fellow, but his criticism wasn't wrong. The Boston Athletic Association (BAA), which put on the race, was proud of the fact that they did not cater to the runners. Ha.
I also thought about a girl I had been seeing, and whether or not she would be on the course near the finish line. She was a beauty who I had gone to Lowell High School with, and now she attended Boston University. I was a nowhere man runner, and a college dropout working in a supermarket, running my first Boston. My future was always inscrutable and obscure.
I never did see her again.
That morning I had grabbed my running kit and tossed it in my rucksack, the orange rucksack monster with a metal frame. I used it when I walked to school at the University of Lowell, and when I travelled to various places to run with teammates or race.
Now, my Greek friend Stevie lugged it around while I was running the race. I managed to connect with him after the race, then lay for some time on one of the many cots in the bowels of the Prudential Building garage. While lying there exhausted, sunburned, and dehydrated, but mostly in deep disappointment with my performance, I heard someone moaning and raised myself up to look. On the cot beside me lay Freddy Doyle, a GBTC teammate. We gave each other resigned looks and thought thank God we at least weren't the poor bastard who was moaning. Yes, from where we lay the marathon looked like it had created a war zone.
When I met up with Stevie, he was in the midst of an argument with someone who was offended that my backpack crowded him in the tight quarters of the street. Bad enough that he had to lug my pack around for hours, but he wasn't going to take any guff from anyone. "Pushy Boston bastard. Screw him," said Stevie.
To make matters worse, I could not hobble more than twenty meters without having to stop. I felt faint and the crowds were freaking me out. Finally, we made it to a Brigham's Soda Fountain where I sat and drank about ten Coca-Colas. Stevie, looking concerned, said, "How you feel now, Hodgie?"
Surprisingly, I felt right as rain.
Now on to our hangout, the Eliot Lounge. When we arrived there was a fairly large line to get in. I was still in my yellow with crimson trim Ron Hill Sports running shorts and yellow Tiger racing flats. I knew most of the bouncers, but I would have felt too weird, cutting in front of everyone and saying, "Hey, I am Bob Hodge. All depart."
So, as luck would have it, along comes a friend who worked at the Medieval Manor Restaurant, which was adjacent to the Eliot and had a back door to the Eliot. We now had access. I went into a restroom and changed into some jeans and a T-shirt. Then I threw some water on my face to wash off some of the sticky, salty sweat. My Medieval Manor buddy produced a bottle of champagne, and the three of us drank from plastic cups in a hallway before proceeding into the cacophony of the Eliot.
I now felt ready to reflect on my own race experience, and catch up with fellow running friends to see how their races went. I quickly found out that my good friend and GBTC teammate Vinny Fleming finished fifth! Holy cow! I felt a mixture of elation and jealousy, but mostly I was happy for him. We ran many miles together; if he could do it maybe I could as well. Bill Rodgers had dropped out, and the race winner went on a tirade over the BAA's handling of race logistics. There certainly were lots of race details to mull over.
I approached GBTC Coach Bill Squires and told him I wanted to run the Penn Relays the following week, and that I wanted him to help me become a great track runner because I was through with marathons forever. He laughed. I could hear his mind working, "Hodgie, what a dinkleberry."
I stayed at the Eliot that night until closing. Tired and hungry, I went to Jamaica Plain with Vinny and stayed at his parents' house. The next morning, we bought the Boston newspapers and read through all of the marathon articles. I never could get over the race "coverage," some of which seemed to be completely fabricated! Technology has has since made it much easier to report on the race.
I returned to Lowell and my part time job working in a supermarket. My coworkers laughed at me as I hobbled around like Grandpa Amos McCoy of The Real McCoys television show. I don't remember anyone thinking it was any great accomplishment that I completed the marathon. I do remember people asking me beforehand if I was going to win, to which I replied "highly unlikely," though that was my primary long-term goal. "Why would you do all that running to compete in a race you have no chance of winning?" people asked. Why indeed.
I did not run for several days, but in time I got my mojo back. No worthwhile success comes easily, so I got back on my horse and rode and rode and rode on, all with a sense of wonder.
Results
https://www.athlinks.com/event/20238/results/Event/613363/Course/933375/Results
Squires Rodgers & GBTC
New York Times