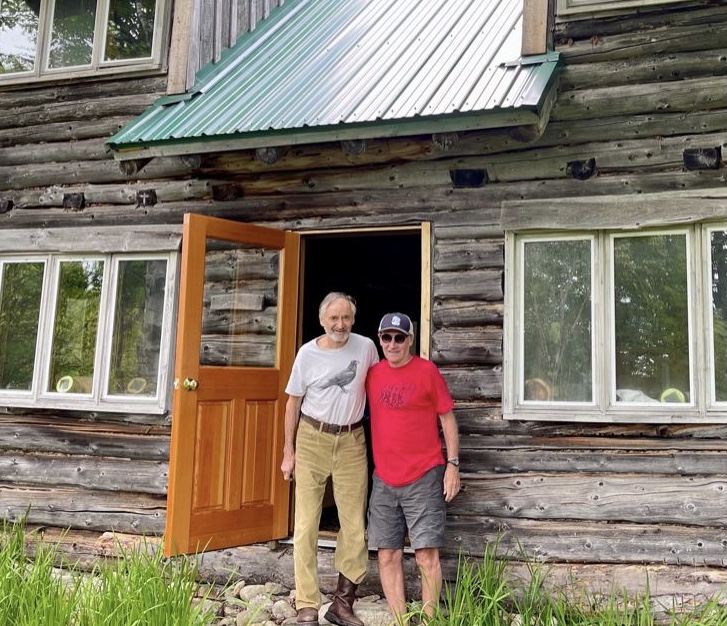 Bernd Heinrich had not been too much on my radar, I have a copy of his book "Why We Run" published in 2001 on my bookcase but I have yet to read it. Friends Jack Fultz, Amby Burfoot and Bill Rodgers were planning to visit Bernd at his cabin in the woods of western Maine and included me with an invitation.
I was intrigued and so I researched Bernd a bit and picked up a copy of his latest book "Racing the Clock" which I hoped to read ahead of our visit, if it indeed ever happened who ever thought us old fellas were all so busy.
A plan was finally hatched and I drove over to Lincoln MA early one morning to meet Jack and pack up one of his fleet of cars for our journey. Bill was not able to join us and Amby and another running friend of Bernd, Ray from SC would meet us there.
Bill and Jack and I have been having a pretty regular get together for dinner at some local establishments though we had some time off for Covid. Being old guys, we usually begin no later than 5:00 in the evening only thing is that once you get us talking, well dinner can take four hours or so.
We hit the road for Maine fully loaded with food and drink for our stay thanks to Jack for the gourmet selections of fine food. Bernd lives in one of two cabins he built up a steep rutted rocky road, isolated in a little slice of heaven.
When we arrived Bernd and Amby met us at the bottom of the road where we all parked and loaded our stuff into Bernd's truck for the ride up to the cabins. Ray would arrive a bit later after touring around looking for the correct address. I got to ride shotgun so had a front row seat and felt like I was in a truck commercial where they show drivers doing all kind of crazy impossible things driving over through and around obstacles.
We arrived and Bernd welcomed us to the cabin where we would be staying. There is no electricity or running water and in and out Wi-Fi connection not a problem. I had been thinking about going for a short run as I had only run a deuce earlier this morning but someone offered up a beer and we all sat around for a few hours getting acquainted, reacquainted chewing the fat. Eventually Ray showed up straight outa South Carolina to join us.
In late afternoon we headed out for a short walk to have a look around the woods Bernd knew every inch of. He had been marking out American Chestnut tree saplings and told us about his efforts to reintroduce this once dominant tree before the blight.
He also showed us his tree climbing skills, none of us tried to emulate, Bernd is extraordinarily fit and though I consider myself to be in general good shape he is fifteen years my senior and has great upper body strength. He was even more impressive on our run the next day.
It began to rain and we headed back to the cabin to dine. None of us lacked the gift of gab and personally I don't get out much and also, we have all been around a while men of our experience of life what I'm saying is we talked it up covering lots of ground.
Bernd has had some extraordinary accomplishments as an athlete winning the masters division of the 1980 Boston Marathon and setting American Records for 100K, 100 miles and 24-hour races on the track.
Of course, Amby and Jack are Boston Marathon winners and have been involved in athletics in one capacity or another for about 50 years. Bernd took in much of the conversation with a smile, quizzical or astonished look and when he added to the conversation we all listened attentively.
Ray provided some ultramarathon stories incredible feats of endurance to understand just what the human mind and body are capable of. All of our lives had some intersections people we knew had known events we participated in etc.
It was lively conversation especially regarding the future of athletics, I myself have some quite radical ideas for true professional athletics particularly for the marathon majors even though it may be a hard road I don't think it is unrealistic but others feel it will never happen.
I feel that the appeal of marathon racing on television is not anywhere near successful mainly because of the presentation or lack thereof. Others feel the marathon can never capture the public's imagination as other sports have.
What do you think?
We called it a night and it was an adventure getting set up in our beds using some solar lamps to light the way upstairs where there was nothing but bedding and mattresses, a few sketches and paintings on the walls and thousands of mostly science related books.
In the morning over coffee Amby set up for a video interview he would be doing with Bernd for the Podium Runner. It was fun being in the audience for it and learning more about Bernd's interesting life.
Afterwards it was hammer time so we got our runner gear on walked down the hill and hit the road at a comically slow pace but just as I was feeling confident maybe even cocky on our out and back run I pushed an uphill a bit, just to get the heart rate up and the hill was longer than I thought and Bernd came right up on me by now we were moving pretty good I thought until Bernd smelled the barn with about a half mile to go he politely said "I'm gonna pick it up" and whoosh he was gone, got the drop on us as Amby and I chased him to the finish.
We hung around on the side of the road stretching out and taking some group photos. A car passed with some young people waving at us and ten minutes later it came by in the other direction fans of Bernd I take it.
Bernd showed us his well originally dug 100 years ago by the people who once farmed this land. An unfortunate moose once fell head first into it and Bernd had to drag it out. He still has the moose skull.
We headed back to the cabin for a meal and packed up to head home. Bernd told me that he would like to read my book "Tales of the Times" and I told him "well, that is lucky because I just happen to have one for you."
I was flattered to hear from him just a day later that he had read my book "entranced to the last page." Wow that means a lot coming from this well-respected man.
It was a memorable trip and I look forward to further writings from Bernd and to catch up on all of the books I have missed. Bernd sent us all off with a little piece of Maine the Chestnut saplings to plant back at home from a slice of time that once was when they grew high and mighty.
Bernd:
And your bird can sing: