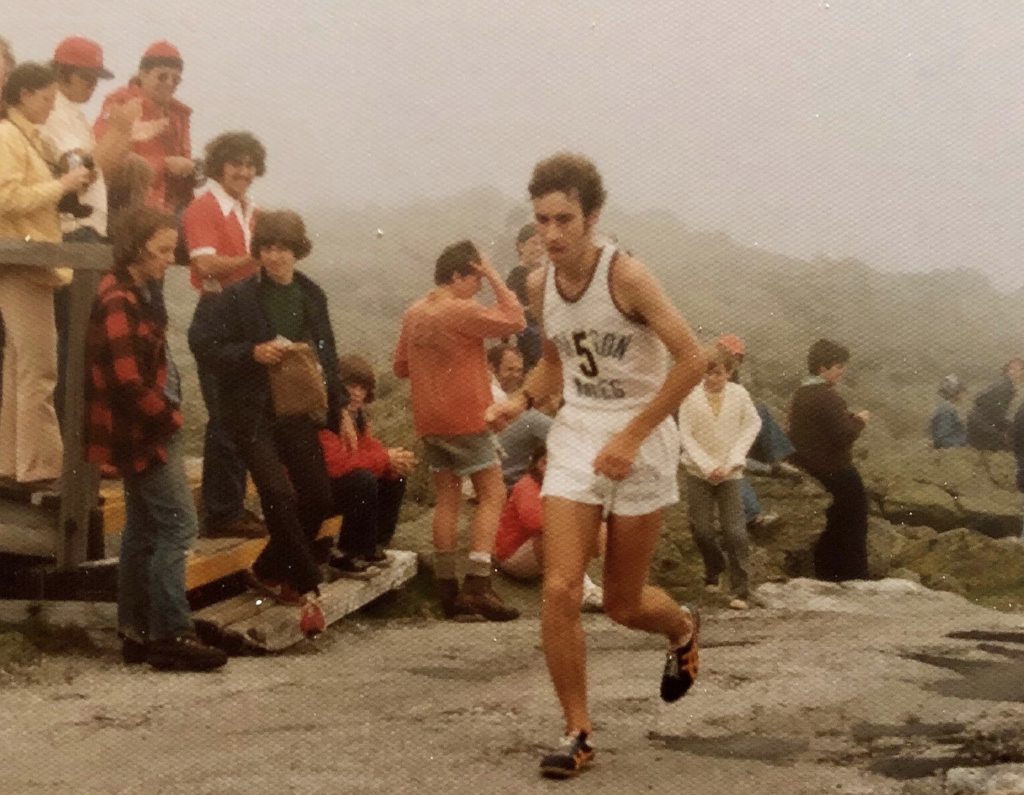 by Bob Hodge
I graduated from Lowell High School (MA) in 1973 along with a thousand other fellow seniors. Our graduation took place at the Lowell Memorial Auditorium, a lengthy affair with each one of us introduced and heading to the stage to shake hands with our faculty and receive our diploma.
I had run cross country and track all four years; after graduation I'dattend Johnson & Wales Junior College in Providence, RI, on an athletic scholarship. This had been just recently decided as I hadn't prepared for college (as I should have) and actually had a very poor attitude about academics.
I did take the SAT college preparatory test in high school, got bored part way through and just filled in a bunch of answers that didn't totally pertain to the questions asked! Obviously, I did not do well; my teachers and coaches thought that I was a real muttonhead So the opportunity to attend a JC was a real stroke of fortune, especially when it was offered after an extremely poor race at a big meet at the Armory in Providence, an Invitational where I did as I was instructed and dropped out when Matt Centrowitz of Power Memorial HS in NYC lapped me in the two mile.
Well, the coach at Johnson & Wales, Ted McLaughlin, walked up to my coach, John Lang, and me and made the offer. Ted would leave J&W shortly after that for UTEP and J&W had a new coach when I arrived in late summer 1973.
While in high school, beginning in my sophomore year, I made my first trip to the White Mountains to go camping for a week. My brother Mike used to go to Twin Mt. in the fall and winter to hunt,though he says he never shot anything. Mike drove myself and a high school friend from the neighborhood up there in July 1972 and just dropped us with a tent and a few supplies at the Little River Campground right at the trailhead for North Twin Mt.
We were a real couple of greenhorns to this entire camping experience. I loved it though, but not so much my friend. We met some older guys who were hiking North Twin Mt. and we tagged along. They carried big rucksacks and wore big hiking boots. It was a pretty tough hike and my friend gave up and turned around after he fell in a river that the trail crossed several times on its way to the summit.
These guys tried to bury me on the trail but I was a gamer and hung right with them. I loved it. When we reached the summit they both took off their packs and sat down and lit up cigarettes!
When I told them that I was from Lowell, MA, they got all excited and asked me about the author, Jack Kerouac, who I had no knowledge of. Kerouac was not getting much love in the early 1970s and most of his books were out of print. I did look him up when I got home and he definitely opened my eyes and mind. It turns out Jack was a teammate of my track coach at Lowell HS, John Lang, in the late 1930s and had written a bit about him in his largely autobiographical Lowell-based novel, "Maggie Cassidy."
Well dear reader, I have been going on and on and hardly a word so far related to the title of this story. Stay with me now, I'm getting there.
The entire hiking, camping out, hobo experience was great and I fell in love with the White Mountains of NH. I travelled back there to explore whenever I could, and even played hooky from school a few times to head up there with friends and just hike all day.
My senior year a group of six of us travelled up and did a hike of several days, camping out at the tent platforms along the trail. Some of these guys were real novices and had hardly left their Lowell neighborhood during their entire young lives. There were many funny stories, including our tent, which we rented and was big enough for all six of us to sleep in. The only problem was it was huge and someone needed to carry it. The group decided that would be me. I had to empty my entire pack to get the tent inside it, and then two guys had to lift it and put it on my back because I couldn't lift it by myself. The tent needed to be set up with poles so we all carried them and used them like walking sticks. Our group made quite an impression out on the trail.
Come winter of 1973/74, J&W and the city of Providence began to feel even colder and meaner than Lowell. I decided to leave school and applied for a job at Raytheon Company where my father and brother were currently working.
I had a good overall experience at J&W and my running prospered. I ran a 9:08 indoor two mile and I was a Junior College All American in cross country. When I first moved home, and before I started my job at Raytheon, my running went well and I ran a 1:07 half marathon in Holliston, MA, finishing third behind Tom Derderian and Ken Mueller (http://www.bunnhill.com/BobHodge/HighSchool/74log.htm).
After that I had some injuries, had to adjust to the working life and I let my running slip. With no clear goals, and no real comrades to runwith, my motivation waned and I drifted.
I travelled to a few road races with Wally Johnson and John Crowther, some teammates from high school, and at one of these we heard about the Mount Washington Road Race (MWRR) and planned to run it in June. I was 18 years old.
We sent our entries in to race dictator, Johnny "Jock" Semple of the B.A.A. When I first met him at some race I thought he was cracked. Later I learned to love and respect him.
We booked a room at the Pinkham Notch AMC hut. John Crowther's brother drove us all the way up there, dropped us off and turned right around and drove all the way back to Lowell. He would be back on Sunday afternoon to pick us up. Yes folks, back then the race was held at 1:00 in the afternoon on Sunday.
We were keeping a sharp eye on the weather and it did not look good. We made our way up the road to the "hill" and picked up our numbers. It was raining. We kept hearing frightful stories from the other runners: hail, 60 mile per hour wind gusts, deep rutted and muddy roads; geezus, everything but the boogy man mountain hermit with a shotgun screaming, "get off my land!"
One runner mentioned that Jock had been threatening to call the race off. I noticed something right away about the runners competing here—they seemed like a different breed. They were tough, crazy, fun loving runners. Call the race off after they drove a few hundred miles? No friggin way, we will run this hill with or without Jock and the BAA!
And so we did. It wasn't so bad. I wore my super cool Nike blue suede leather racing shoes and they bled blue dye all over my bare feet inside. My feet are frightening enough but completely blue they looked like they had been hit with a sledgehammer.
I finished 14th in 75:42, not bad. Wally and John finished somewhere behind me and we walked and jogged back down the mountain together. Some of the older guys had beer that they shared with us, telling all kinds of funny stories about their races. Jock handed out the awards, most of which went to the B.A.A. runners. That made Jock smile.
Later, Crowther's brother showed up and we piled into the car and headed back to Lowell. It was a great weekend adventure full of memories to help me through the work week ahead.
This year I am 60 and planning a return to what could be my last MWRR. My wife and I will be celebrating our 30th wedding anniversary. We were married in Indianapolis, IN, on the very day of the 1986 MWRR.
I imagine that the assembled Mount Washington Road Race Press Corp will have some questions for me. It behooves me to do better than on my high school SATS.
MWRRPC: Bob, what brings you back to the MWRR this year?
BH: The clincher is the turkey dinner after the race, that and the free entry for a former winner. My only worry is getting back down the mountain before all the food is gobbled down.
MWRRPC: Do you have a specific goal for this race?
BH: I will run just hard enough to secure my eighth victory. Jonathan Wyatt's record will have to wait for another lifetime. I only need to improve 294 places from my last appearance at the 50th running in 2010.
MWRRPC: Bob, you ran your first MWRR in 1974. How has the race changed for you?
BH: Essentially of course it is the same. You vs. the mountain, but in 1974 the race was 8-miles and now it's only 7.6. Also, Jock would purchase many different items to be engraved with the MWRR logo affixed to them. My first year I picked out a tray and when Jock was handing it to me I said, "hey Jock, is this platter real silver? Jock ran after me with the tray and tried to hit me over the head with it. He wasn't fast enough then and he's gone now. Only the mountain endures.
14th Mt Washington Road Race
June 16, 1974
Sunday
210 Finishers

A record 228 starters almost doubled the size of the filed. Most runners had to find their own way down from the summit, as very few cars were able to make it to the top. A steady rain fell throughout the day and at the top dense fog and pouring rain hit the finishers. Most cars were stopped at halfway due to the muddy unsafe condition of the road. The weather, always a factor, featured 60 mph winds and a wind-chill of 10 degrees. Three women were listed among the starters however the results do not clearly indicate if any finished.

Ray Currier led past 2 miles with Jim Capezzuto and 1973 winner John Cederholm tucked behind. Gloria Ratti, one of the race timers noted, "We could not see the complexion of the race, inasmuch as we had to try to get to the top as quickly as possible and get by the stranded and abandoned cars." Capezzuto took the lead near the halfway and held on. He noted that he did no special training and that "the wind and muddy road conditions bothered me somewhat, but I was most disappointed of not being able to enjoy the view on my first trip to the summit." Capezzuto, who would go on to win the 1975 New England AAU cross-country championship, took the victory by 1:30 over Tom Derderian.
Others in the field included 18-year-old Bob Hodge making his first appearance, finishing 14th in 1:15:46. Eleventh place finisher Gaetan Breton has finished 26 times between 1973 and 2004.
Team scores were not given however; NMC and BAA waged a close battle with NMC coming out on top with a time of 6:33:01 to BAA's 6:33:30. This was the closest team finish to date.
Top 25 finishersPlace Name Club Time Age
1 Jim Capezzuto BAA 1:07:58 20
2 Tom Derderian SLAC 1:09:28 24
3 Tim Smith Mohegan 1:09:42
4 Ray Currier 1:11:23 28
5 Ralph Thomas 1:11:37
6 John Cederholm BAA 1:12:54 31 FW
7 Sam Winebaum NMC 1:13:24
8 John Estle NCAC 1:13:35
9 Dean Perry Bethel Bananas 1:14:34
10 Ron Stafford NCAC 1:14:44
11 Gaetan Breton 1:14:47 26
12 Richard Chauxnard U of Laval 1:15:02
13 Bennett Beech Washington SC 1:15:37
14 Bob Hodge NMC 1:15:42 18 FW
15 Gary Wallace Triple Cities TC 1:15:46
Place Name Club Time Age
16 Chet Fortier NMC 1:16:13
17 Pierre Cote 1:16:14
18 Ken Foote 1:16:17
19 John Pfeil Buffalo TC 1:16:58
20 Bradon Gothard Buffalo TC 1:17:05
21 Clifford Connor Millrose AA 1:18:10
22 John Garlepp Millrose AA 1:18:39
23 Paul Fahey Wakefield TC 1:18:46
24 Jeff White 1:19:26
25 Randy Phillips LRTC 1:19:29