This page is part running history archive, part compendium of my impressions, experiences, and thoughts during a running career that took me far and wide. I invite your thoughts and comments.
Toughness—"Fisherman's Platter"
1973
"Bob, what was the toughest race for you? Probably Mt. Washington, right? Or Boston?"
Every race is tough, preparation is the key but sometimes circumstances conspire to make a race extraordinarily difficult.
My senior year of high school everything seemed to fall into place for me relative to my first three years, I felt a lot more comfortable in my own skin, grown up or what have you.
My class schedule was a breeze and I had a scholarship offer to a Junior College in Providence though I was not one hundred percent certain I would go or look for a job in the Lowell area.
At least I would be done with high school.
During the Outdoor Track Season, I was running very well. On the night before the Essex Conference Meet where I would run the two mile I went out to dinner with my parents at a local Restaurant in Dracut called The Haven.
It was an old timey place where it looked like nothing had changed since 1920. I ordered the fisherman's platter for some reason; normally I would have had a burger or some pasta.
We had a nice evening but as it went I felt some heaviness in my stomach like a bloated feeling and remember thinking it would pass. I went off to bed early only to wake up hyperventilating, with an itchy rash and sweat poring out of me.
I went to the bathroom and hugged the toilet bowl. It makes me queasy just remembering. I suffered all night but finally slept a bit and then woke up nauseous and dizzy unsteady on my feet. The rash was gone, and my breathing was easier.
I left my parents sleeping and headed to Cawley Stadium to catch the bus to the meet. On the bus ride I felt real queasy and car sick, but I said nothing. Everyone was pensive, so nothing seemed too unusual to my friends and teammates.
When we got to the meet I approached my coach Mr. Lang to tell him I was not feeling well but still planned to run. "Were you out drinking last night knucklehead?" "No Coach, I would never do that before a big meet, I had dinner with my parents and got sick."
He looked pissed. You see, just a week before my friend Emo and I went to The Old Worthen Tavern in Lowell and were served our first ever beers. We were 17 and the legal age then was 18. While we were there Mr. Lang came in and we tried to avoid him seeing us, but I think he did and just never said anything to us at least not yet.
My main competitor I was concerned about was Sully from St. John's Prep. He had not previously beaten me, but we had a few close battles. On my warm-up I went through the motions.
I sat down to put on my spikes red suede Puma's with white Velcro straps. This process always put me into my racing mindset, holy mindset, off to war, mindset, but today, nothing.
I tried a few strides on the track, and found that my spike length was too long for this track. My spikes were sticking into it to the extent that I had to pull my foot out. I kept tripping and had to make adjustments to my stride just to stay on my feet.
We lined up and the gun blasted us on our way.
It was a rare day when I did not go straight to the front and push the pace but today the pace was modest, and I was just hanging on. Coach Lang not one to have demonstrative outburst was in his accustomed position at the finish line area but had his back to the track not watching at all.
I hated the idea of letting him down when he thought I had done something stupid and something began to come over me. Perhaps it just took a few laps to shake out, I pulled wide and made a play for the lead. It hurt, a lot. Nothing felt right, I was working way too hard. I pushed onward and soon only Sully was with me.
On the last lap I was wambling, expecting the field to blow by me but Sully's footfalls grew fainter as I flailed my arms willing myself ahead to the finish.
I won, 9:34, decent considering my condition. Coach Lang reminded me of my lost opportunity to run a fast time. "Bobby, you could have run 9:20 you puddinhead."
Two weeks later I ran 9:17 and it was easy in comparison. This was a school best until 2016 when Chris Polanco ran 9:16 indoors.
Fabulous Thunderbirds: https://www.youtube.com/watch?v=WxBx0nfRp9s
Greater Boston Track Club Victory National Cross Country 1979
OHME–HOCHI 30KM ROAD RACE 1980
As a result of my third place finish at the Boston Marathon in 1979 I received an invitation to run in this prestigious road race in Japan. I had heard many good things about this event and had even met some of the organizers and main sponsors of the event as well as JAAF officials at the Eliot Lounge in Boston.
Some representatives from Ohme attended Boston each year in a reciprocal relationship American athletes were chosen based on their performance at Boston.  This would be my second international race invitation the first being a trip to Sydney Australia but just for the weekend to run the City to Surf Road Race.
Two other top American runners, Tom Fleming and Randy Thomas would be accompanying me along with a representative from the BAA.
I looked forward to this event from the time I learned of my invitation. The 30K in February would be a good opportunity to test my fitness with my ultimate goal being the US Olympic Marathon Trials in Buffalo at the end of May.
I finished 1979 with a strong performance at the National Cross Country in November finishing third. Our club Greater Boston won the team title a long term goal accomplished after several years trying.
At the end of December I travelled to Palo Alto CA for a series of running events conducted by Runner's World. I competed in a 15K track race at the Stanford University track and finished third 44:00 a short lived American Record. Bill Rodgers had run 43:39.8 previously but because the paperwork had not been finalized yet and the RW event was ratified first, I held the record.
That event was on January 1st 1980 a good start to the year. I noted in my journal prior to the race "Probably should have gone a bit  easier the last few days not looking to run anything stellar just a hard workout" I ran 19 miles in two runs on December 31at.
Unfortunately I developed a bone bruise on my heel. I had switched shoe company sponsors a few months earlier going from New Balance to Reebok who were then trying to establish in North America after a long history of shoe making in England.
NB was a very straight lasted shoe and Reebok the opposite with their banana last. It took some time to adjust. Mainly I went with them because they offered me substantially more money which I could not afford to turn down in any case, and I was a bit insulted by NB offer as I felt I was performing as well or better than athletes making more.
After this event I went home to my winter rental on the water in Scituate Harbor MA. I was rooming with my former boss and friend Sharpless who brought me down to the beautiful South Shore of Massachusetts two years before to work at his retail establishment the Runnery.
My plan for the next few months included driving to Tampa FLA in my 69 Mustang and staying with my college coach's brother and his young family for some indeterminate amount of time. I was especially making this effort to prepare for the Marathon Trials in May.
In February I would drive to Miami to run for a few days with Tom Fleming who would be making the trip to Ohme with me and was based in a house there with some other runners passing the winter months in a more hospitable climate. The South Miami running community was supportive and the house had been arranged with help from the organizers of the Orange Bowl Marathon.
I had known TF for a few years his connection to the Boston Marathon and his involvement with New Balance when I was still with them. Tom shockingly passed away recently and a flood of memories returned from this time in my life.
TF Flyer, Tom Fleming, I best remember our time in that vacationing professor's house in South Miami in the winter of 1980. Tom and his wife Diane, pure NJ. Every single morning TF would run15 miles and drag me with him through Coconut Grove with the Parrots squawking overhead. in the crushing heat and humidity of a Miami winter morning.

I woke up to TF's knocking on the door and then his voice, "Bobby, time for your medicine" By the time we got to the end of the first block TF was 2-3 steps ahead of me and there he generally stayed or other days I only tried to keep him in sight.
TF only stopped on a run to poop, I always hoped he would need to so I could catch a breather. Of course if I stopped for any reason TF was gone. Though sometimes just at the end of our run we would stop at a bridge crossing to look for Manatees that would congregate there.
The house had avocado trees which I thought were quite exotic and I tried them for the first time in my life and loved them. We would finish our runs and I would sit on the stoop for an hour staring into space with Pepsi and water and what-not and avocados.
TF would immediately off to the next thing making plans with Diane for the day. We had visits from other runners including Bill Rodgers, Kirk Pfeffer and Guenter Mihelke. We watched the Winter Olympics in the evenings including the USA Hockey Team victory.
We were dreaming our own Olympic dream, that is why we had come to Miami, but now the boycott loomed. One day on our morning run I bonked and just started walking. TF never looked back. My mind was in a storm. "What am I doing here getting run off my feet every freakin day with no Olympics"?
When I got back I started packing up my Mustang and getting ready to drive home. TF just shook his head at me. "Carter ain't gonna stop this thing if the USOC has any balls. if they don't we just run Boston instead, I would rather win Boston than anything!"
On the weekend TF and Diane went to a race somewhere and I traveled to Jacksonville and won the River Run 15K. The hard effort was bearing fruit.
During our time in Florida we traveled to the Ohme 30K in Japan an awesome trip. In 1986 we traveled to New Zealand together, Tom and then wife Barbara and month old child Margo.
So many memories of TF who I last saw this past summer in Eugene at the Trials. .See you down the road buddy.
 TF and I traveled to NYC together and spent a night at an airport hotel. We were planning to run but it was one of those places where you could not safely go any distance without being in the road with speeding traffic. We wound up running over 100 laps around a parking garage to get in our 10 miler.
When we arrived in Tokyo, Tom, Randy Thomas and Rod from the BAA, we were met by representatives from the JAAF and some media. Over and over we were asked "how is your condition?' I thought of this song, "I just dropped in to see what condition my condition was in" and sang a verse to Randy and TF every time they asked.
We were taken to The Palace Hotel just a few blocks from the Imperial Palace which had a three mile walkway around it where it seemed every runner in Tokyo would run. Of course TF would have to chase down any runner who had the audacity to pass us while we were covering our daily miles around the Palace.
Each day preceding the race was planned out for us museums, palaces the Olympic Stadium. We were also hosted at a JAAF official's home where we watched a recording of the Japanese television coverage of the 1979 Boston Marathon. It was all fun but also tiring along with the fairly heavy mileage and racing the locals around the Palace with TF.
The day before the race we took the Bullet Train to Ome and I was impressed with the efficiency and comforts compared to our fair city, Boston. I was anxious for the race and my trepidation proved correct when I quickly fell back from Randy and the lead group. I ran a lackadaisical effort and finished 11th. Randy who had been training in New Zealand ran perhaps his finest race ever winning in a then world best road time for 30KM. TF finished just behind me and struggled as well.
After the race we traveled to Hakone a resort in the shadow of Mt Fuji. It was wonderful where we stayed a Japanese style hotel. It was funny watching TF try and stick his size 13 feet into the little slippers they provided as we entered the hotel.
We retired to our rooms briefly grabbed our robes and went to the hot spring fed baths for a soak. Afterwards we donned our "happy coats" and sat down cross legged at a table for a feasting on traditional Japanese food. I shied away from the shellfish leery of an allergic reaction. I enjoyed the Sukiyaki and of course Sake in little wooden cups.
I was disappointed with my race but learning and growing as a person and realizing that one should never get too high after a good race or too low after a bad one. Keeping an even keel, it was easier said than done.
The next day I was up early and went out for a run on my own. It was lightly snowing and very quiet and beautiful after having spending the majority of our time in the country in a bustling crowded city. I felt very at peace in this place.
Our tour continued part way to the top of Mt Fuji where many make the pilgrimage. Our hosts had provided us with very liberal per diem monies to buy gifts and mementos. I bought a set of woodcuts by Hokusai 100 Views of Mt Fuji and also a jewelry box and Hakata Doll for my then girlfriend Frannie.
On the trip home TF and I talked about our future in running wondered how things would turn out. We were optimistic that the USA would send a team to the Olympics and that professional running was right around the corner. We were planning a trip up to Boca Raton the next week where Billy Rodgers was decamped. There was yet many more wake up calls from TF.  "Time for your medicine Hodgie"
Summer 1980

"Life can only be understood backwards but must be lived forwards" Kierkegaard
It is a languid summer day but I am moving well and breathing easy on this early evening run in the middle of July.
It is my second run of the day and I am several weeks into my summer personal training camp based in a cabin on the
North River a tidal river in Norwell, MA.
Through the fall and winter previous to this golden summer I had a residence in Scituate Harbor several miles away, but spent most of the winter in Florida preparing for the 1980 Olympic Trials Marathon. Unfortunately there was the boycott and my subsequent decision not to compete in the trials with no Olympics on the line.
Our rental in Scituate ended in May and it was my good fortune to land in this cabin.
It was located up a small hill on a dirt road off of Main Street and was adjacent to a larger house and a pen for the goats.
There was one goat a hearty type who would leap out of the pen from time to time and come visit me in my little cabin.
One of his ears was chewed off apparently so I called him van-goat.
After the boycott was announced I decided to run Boston and it did not go well for me as I did not finish. It was a warm day and I cramped badly and stopped at the 21 mile point. I was disappointed and became disillusioned and I went to the pub every night for a week to drown my pathos.
It didn't help, but my love of running and competing slowly returned.
After all I had a contract with a shoe company that required minimal time at the office and I had good friends nearby that
I had worked retail with for a few years. I also had a girlfriend who would come down on the bus from Boston to see me some weekends, so really the future was so bright I had to wear shades.
After my run I walked to the river and dove in from the dock. I felt my entire body relax as I lightly kicked in the water and looked out at the lowering sun and clouds in the sky.
I enjoyed the feeling of floating in the water becoming mesmerized in the flow similar to the feeling when running and clicking on all cylinders.
The chill of the water and the salty tang were invigorating rejuvenating.
The cabin had a small kitchen a larger living room with a wood stove, a small bedroom and tiny bathroom with a shower, perfect. I did not have many amenities but I had all that I needed. I had a portable black and white TV, a turntable and records and a radio receiver.
Compared to summers in Lowell growing up this was like being at a resort.
I had run a road race every weekend in June and won them all. They were all fairly low key affairs and easily incorporated into the running load I was trying to accomplish each week. We always had good times after these events.
After my evening run and swim I cooked swordfish on a tiny hibachi grill and boiled fresh corn. I usually had strawberries
or blueberries all from the local farm stands.
It was an idyllic life but I did feel some pressure after performing so badly on the big stage at Boston. I did not have reduction clauses in my contract but if I didn't perform or the company's gear didn't sell well enough I would be looking for other ways to continue with athletics.
In the days before professionalism and prize money I did have some income also from appearance fees from race directors to guarantee my participation.
My main goal for the summer was the Falmouth Road Race. Beyond that I would need to decide about a fall marathon or a cross country season or perhaps both?
I had been thinking that I would run the New York City Marathon in October, but recently I had received a letter of invitation from Nelson Farris via Geoff Hollister to run in the NIKE OTC Marathon in Eugene Oregon.
My only marathon race experiences so far was Boston which I had now run three times. So far New York had not recruited me to compete there so that I was leaning toward running in Eugene.
It's nice to feel wanted.
The summer proceeded and I grew tanned and lean, rib cages prominent and perhaps frightening to behold, running with no shirt through the center of town. For a distance runner fitness is in proportion to emaciation.
Falmouth went well, I held second place behind the great Flying Kiwi Rod Dixon heading into the Heights at six and a half miles. I was passed in the last few hundred yards by both Herb Lindsay and Ric Rojas.
I went to the Nike OTC the first week of September hoping for a PR and a win. I ran a personal best finishing second to another great New Zealander, Dick Quax.  It was a much different experience from Boston being run at 8:00 A.M. with very few spectators out on the course. The finish was in Hayward Field which was cool. I remember thinking as I ran the last five miles with Quax that I was doomed when he decided to go for it, but so far I had pulled him back after each of his surges.
In the end he inched ahead and beat me by twelve seconds.
I spoke with a few media types at the finish. For some reason I was not happy about my race, I was pissed that I lost and it is amusing to read the little rant that I wrote in my running diary back then cussing out "Quaxy" as I called him and the Nike crew. (I represented upstart in the USA Reebok at the time)
I walked back to my hotel and grabbed twenty dollars and then I walked to the liquor store and bought a case of beer and a few snacks.
Back at the hotel I filled the bathtub with water and ice and also the sink. I put the beer in and then I jumped in to the
tub for awhile as well.
I got up and toweled off, climbed into bed and started watching the US Open Tennis. McEnroe v. Borg, one of the greatest matches ever played.
It was a very memorable summer all around. I had discovered a lot about myself at least in my athletic abilities and that was always my quest.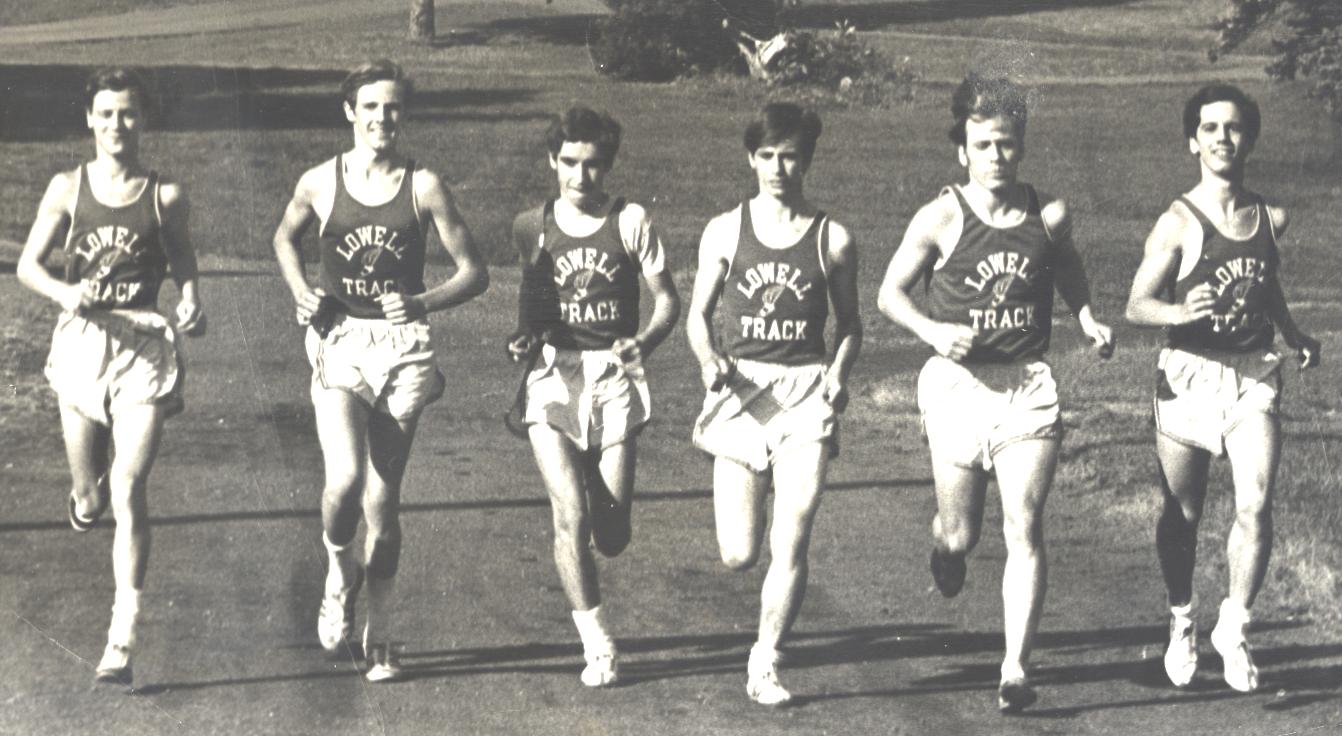 Photo Shedd Park Lowell MA
My First Cross Country Race (Also my first organized running competition of any kind.)
September 1969. I started my freshman year at Lowell High School but only in name, in reality I was physically at the Edith Nourse Rogers School by the South Common and a half mile walk from my home on Butterfield St. in the Acre section of the city.
The Edith Nourse Rogers School was taking on the overflow of baby boomer students flooding the main high school building in downtown Lowell.  At least they were taking on those students who were not in a college preparatory program.
The Sisters at St. Patrick's where I attended school advised me to this end.
Most of my friends were either going to LHS or some Catholic High School like Keith Academy just across the street coincidentally from the Rogers. I felt a bit left out of things when my fellow students were taking entrance exams to different schools and so somehow or other I got the idea in my head that I would take the entrance exam for St. Francis Seminary away out in Andover on the Tewksbury line.
I told my Dad and he said "what? You are going to LHS." Well, in a rare act of rebellion I got up early one Saturday morning and I walked close to five miles to the Seminary School to take the exam. Afterwards I started walking home and a friend I knew from St Pat's had his Mom pick me up and give me a ride home.
I told them that I had walked out there to take the exam and they laughed and didn't believe me. Shortly after that I received a letter from the Seminary to say that I had not scored well enough on the test and could not be accepted for enrollment.
So, I figured the Sisters were right and also my Dad would not have wanted me to go there anyway so I attended pseudo Lowell High.
Over the summer and fall I played baseball in the AYO Acre Youth Organization League on the North Common right outside the door of our tenement house where we had an apartment on the third floor. I was a decent pitcher and threw the ball sidearm, a frightening delivery for batters at the plate.
Also, a friend from school who was heading to Keith Academy shared his reading list of books that he was supposed to read over the summer. I remember reading Charles Dickens Great Expectations one of the items on his list. It was a step up from my usual reading of Horatio Alger type stories about sports heroes etc.
My eight year older brother Billy was a good athlete and coach in multiple sports and he sometimes would challenge me to races on the Common. He would give me a little head start and then blow by me and laugh. Billy, who was drafted into the Army, would be headed to Vietnam around the same time I was starting high school. My four year older brother Mike was also a good athlete but not as committed to it as Billy. Mikey liked to chase the girlies.
There was a well known boxer in our Acre neighborhood named Beau Jaynes. Beau would run around the perimeter of the North Common shadow boxing all the live long day, in Army boots, in the summer heat. A few times I and my friends tagged along behind him for a lap. He would mostly ignore us but now and then he would turn around and throw some punches our way and laugh.
The first day of school I got all dressed up as I had in grammar school where we had to wear a uniform of white shirt, green tie and dark trousers. I was especially proud of my new "wing tip" shoes. Well I set off walking to school that day I fell in with other kids doing the same and I immediately began to sense that they were all checking me out in my fancy duds. Most of them were wearing jeans and a t-shirt. Some were smoking cigarettes
I got quite an initiation in school that day. This was not going to be anything like grammar school at St. Pat's.
In gym class, which no one changed into appropriate clothing for, but just wore their street clothes, we would pick out sides and play baseball. We had an old timey gym teacher who noticed my running skill on the base paths in my fancy pants wing tip shoes outfit, and he suggested that I go out for the cross country and track teams.
I was flattered he thought that I could be a good runner but I only had a faint idea what cross country running was all about. Another kid in my class was already on the team so the next day I met him after school and we walked out to Cawley Stadium about two miles from the Rogers School. I almost quit before I started when I realized that I would have to walk that far every day and then go run! That seemed too absurd.
When we got there the rest of the team had finished practice and the coach had already left. We changed into some running gear, for me cut off jeans and a beat up pair of sneakers and we did a bunch of 220 yard repeats.
Then we showered quickly and walked home. As I neared home my baseball coach pulled up in his car and shouted to me that practice that night would be at six. I told him I would be there but I already knew that if I liked this running thing I was through with baseball which bored me anyway.
The next day we went again to Cawley for practice after school. This time I met Coach John Lang. He wore a fedora and he smoked a pipe. I liked him right away. He explained how the cross country season was half over and that there were just a few competitions left that us newbie's could compete in. One would be this coming Saturday at famed Franklin Park in Boston, the Catholic Memorial Invitational.
The CMI had a frosh division with a 1.7 mile race. Coach Lang gave me a uniform and some forms to fill out and told me what time to be there on Saturday. I was so excited I ran all the way home carrying all my stuff, what a sap! I'm going to Boston, yah on a bus, yah.
Saturday arrived and we headed down to Boston on a bus for our big adventure. It was a regular yellow school bus and only half full as we did not have a very big team maybe a dozen runners all together. No one spoke much on the way down and I realized everyone was pensive and a bit anxious about the upcoming race. This race would have a huge stampeding field of greenhorns like me and it was going to be war!
When we arrived and got off the bus I just sort of mimicked the others as I had no idea what to do. We got our numbers from Coach and pinned them on. Coach Lang said to "jog for ten minutes and then do some striders" I just followed everyone else.
Soon we lined up in our assigned boxes at the start and before I knew it we were all hurling ourselves out of there, I was scared shitless.
The race started up at the entrance to White Stadium and after a few hundred yards we crossed the road to the golf course where we ran a loop around the perimeter and then back across the road to the finish. I ran the whole distance engulfed in a huge pack and was just happy that I stayed on my feet. Some unlucky bastards went down and you could hear them cursing. One kid ran right into a small tree branch and nearly decapitated himself. It was awesome.
After our race we hung around and watched the upper classmen run. The guys out in front in those races looked like stallions, they were flying.
On the way home we were quite the lively group yip yapping like a group of thirteen year old girls. I realized that I had actually finished ahead of some kids on my team and Coach Lang told me I did well in my first race.
I did not realize it at the time but this was the beginning of a long involvement in running that took me far and wide.
Lowell High School Alumni Run 2016
Boston 1977 METER MAGAZINE
https://www.dropbox.com/s/qs6wruhnx6i607g/488328_2_MeterArticle.pdf?dl=0
Tracksmith Eugene Travel blog 2016 Olympic Track & Field Trials
https://meter.tracksmith.com/running-travel-adventure-number-1066-665a5ec6f59a#.58oxht5hg
https://meter.tracksmith.com/running-travel-adventure-number-1066-pt2-4d3206965e18#.mrwfx3boj
https://meter.tracksmith.com/running-travel-adventure-number-1066-pt3-2c05d5fd0ef1#.eaaxbpec3
https://meter.tracksmith.com/running-travel-adventure-number-1066-pt4-9dc59dd15c9b#.h2xk209el
In 1986 I was fortunate to travel to New Zealand for this marathon. It was held in February and got me away from a harsh New England winter for a couple of weeks. Also, I always had a fascination with the tradition of distance running and famed coach Arthur Lydiard. I got to meet some of my heroes including Barry Magee Bronze Medalist at the Rome Olympics. I visited with Pete and Chrissie Pfitzinger and Pete led the first half of our race as the pacemaker.
Falmouth Road Race: Yesterday & Today
"Life can only be understood backwards; but must be lived forward."
Kierkegaard
In August of 1974 Falmouth first entered my consciousness. My own running was dormant laid aside by injury and disillusionment and a mind numbing full time job.
I read in the news, Will Rodgers beat Marty Liquori one of America's greatest middle distance runners. The fact that Marty even chose to run this race, then in its infancy was kind of a big deal and the appearance of many of the fledgling Greater Boston Track Club athletes made certain that the race received greater coverage than it would have otherwise.
Race founder and guru Tommy Leonard had begun something special. I had met Tommy at a ten mile race in Amherst MA in February of 1974 introduced by Bill Rodgers and Vinnie Fleming who I had traveled to Amherst with. He was a man of many "hopes and dreams and plans and schemes." Bad Love Randy Newman
For me this was all a reawakening and Falmouth would come to encapsulate my own running career. I was determined to be there the following year ready to roll.
The 1975 race was the first appearance of America's Marathon Gold Medalist Frank Shorter. I was in total awe as Tommy introduced me, then a 19 year old, to Shorter just as we were milling around the start in Woods Hole.
In 1983 friend of Athletics and writer for the Boston Globe Joe Concannon wrote an article headlined "Hodge & Falmouth Grow Together" yes indeed.
But in 75 there were hundreds of runners and ninety percent of them were serious competitors.
And the best continued to come, mostly America's best throughout the 80's but then with the advent of "professional running" and the emergence of the East African runners a seismic shift began.
Today there are 10,000 runners and only a very small percentage of them are serious competitors as they were then.
So the race grew as the competition, both men's and women's intensified and this link to a legitimately world class running event was responsible along with the obvious back drop of a Cape Cod resort in summertime.
The racing made the race.
Excellence and competition defined the greatest road races in the country.  There was Rodgers vs. Shorter, Salazar vs. Virgin, Jonesey vs. Murphy, Nzau vs. Kigen etc.
As the field of runners increased in quantity due to the development of technology allowing the race to be more easily managed, the quality in terms of depth of performance began a steady decline.
I have attended the race for many years now as a spectator, running the race course the day before, and I have witnessed the spectacle first hand.
In my early involvement competing at Falmouth I did not envision the race changing in this way.
The decline in the depth of performance is important because that group, the Wannabe Distance God  is the heart and soul of our major road race competitions.
They help maintain the quality and racing passion. Falmouth has become a parade diminishing the competitive racing which becomes incidental morphed into feel good human interest stories and charity runners.
For the good of the individual events and the health and integrity of the running road race sport, standards of excellence should be imposed and the field size limited.
In 1980 45 runners ran under 5 minute miles pace. In 2015 12 runners accomplished this. In 2015 the first woman ran 36:47 good for 22nd place overall. In 1980 36:47 placed you 92nd overall, in a field less than one third the size of 2015.
At Falmouth I would say no more than three thousand of the best eligible runners. Fewer runners equal fewer expenses for the race and a better race experience for everyone. Then again 7,000 runners less @ $65, entry fee is $455,000.
We could go back to presenting the race as an exclusive competition. The coverage could be much improved.
I see temporary stands erected at the three and a half mile mark in a closed off area with beverages and snacks available and the race in progress on a giant television screen. Any funds raised could be directed to the wannabes I previously mentioned.
Another "fan center" could be installed at the four and a half mile marker. Let those others not qualified for this prestigious event come to town and join in this chorus as well as other weekend race activities.
Top announcers such as Toni Reavis and Brent Hawkins who have the knowledge of the sport and know the history of the event must be utilized.
The Falmouth Road Race prize money has been tweaked over the years and seems to have peaked in 2011 when equal prizes were awarded to the top fifteen Americans and overall finishers with the Americans double dipping.
It declined in 2014 but has rebounded some the last two years.
Every effort should be made to increase the prize money both at the top and down to at least the top twenty five individuals.
Every effort should be made to bring in the top Americans and top local wannabes.
I believe the mission of a race like Falmouth, a race that has meant so much to my own running, needs to get back to being innovative and create an excellence of performance model and lead us back to the racing defining the race.
Athletes of all abilities have many fine events to be involved with. Some events need to be more exclusive. Not everyone gets to take part in the major events in other professional sports. They have to qualify.
Why should Road Racing be any different?
OK reader, thanks for hanging in there if you have made it this far reading my musings. I realize that what I am proposing is highly unlikely in the current climate.
I also think that our biggest events should give back to support the efforts at developmental running. Groups like NE Distance are doing a great job at giving wannabes support and job opportunities. We need many more of this type of effort.
The Falmouth race is a non- profit organization and as such their financial information is publicly available. If you are interested seek out where the money goes check their Form 990 filed with the IRS.
1980 Results scroll to bottom.
http://recoveryourstride.blogspot.com/2010/07/1980-falmouth-road-race-photos.html
2015 Results:
http://www.mtecresults.com/race/show/3368/2015_Falmouth_Road_Race-Run
Additional links of interest:
High School Summer Job a Teenage Ritual
In the summer of 1972 after finishing my junior year at Lowell MA High School I began looking for a summer job. I had dodged a job the previous summer by attending summer school to make up for a poor grade in Algebra
My four year older brother Mike had worked in a few of the Lowell Mills that were still running many years from their hey day in the 1880's.
This gave me the idea to search for work in a mill of some sort and according to the Lowell Sun newspaper the Lawrence Mills a short walk from my house, had assorted jobs for young unsuspecting greenhorns like me.
The Lawrence Mills, hard by the Merrimack River were built in 1890 and by 1972 had fallen into disrepair and were largely vacant. I went there one fine day and filled out the application for employment. I had only a vague notion what went on in this mill.
I was hired the next day and told to report for work on Monday. I would be scheduled to work Monday through Thursday from 7:00 A.M. to 5:00 P.M. A seriously long day for a wannabe great distance runner, but I decided to give it a go.
My running went well my junior year and I finished seventh in the All-State Cross Country Meet at Franklin Park and ran a host of personal best times at various distances. The biggest reason for that improvement was the summer of running I did after my sophomore year. I also ran twice a day occasionally even though I was warned about "burn out".
You can't burn out if you never catch fire.
Though my running went well my academics was shaky, so college was not looking at all certain. I wasn't worried about it much, it was the inscrutable future and we all know time.
The job awaiting me in the mill involved many loud and clattering machines that gobbled up thread from spools and weaved them into cloth. My job consisted of pushing multiple bins around on wheels and collecting the empty spools and replacing them with threaded spools. Mill Work Doffers
It may not sound like much but it was a killer. The machines often broke down and we were supposed to get them going again after they showed us a few tricks of the trade. It was hot and noisy and ten hours of it, oh the horror.
We were paid hourly punching a clock but also piecemeal by the number of filled bins with empty spools. I barely filled one bin while a couple of tiny woman that I worked with would fill two or three. I was flabbergasted watching them work. They were athletes of the textile mills and they meant business. One was Asian and one Hispanic. We never spoke to each other and just shared the occasional look of resignation.
At five o'clock my friend Nick, a fellow runner who had just finished his first year at UMASS Amherst picked me up and we went to my house and headed out for a ten mile run. I finished the run in a stupor, ate a cold dinner and passed out in a chair watching the Walton's on television. "Good night John Boy".
After two weeks with each work day passing in this manner, and the off days spent sleeping all morning, I had had enough and I quit.
My high school friend and teammate Wally had been working at Modern Floor Cleaning Service on Broadway and he encouraged me to apply there and so I did. I was hired and with no training whatsoever I was sent out to work, partnered with Wally who had been working there for three days.
We worked at night in closed offices and retail establishments washing floors and rugs. We had to drive a van with the equipment to the job sites. The van was a standard shift with the shifter on the column. Wally barely could get the thing in gear and we bumped and grinded our way around Lowell and environs equipment bouncing around in the back.
We made it through a few nights like this, thankfully most of the places that we cleaned nobody was around to see our two stooges routine trying to operate the equipment. The floor cleaning machine wax buffer had a mind of its own and we were always losing control of it.
One night we had a job at the Lowell Five & Dime and set off an alarm. The cops they came guns blazing. Another night we bumped and grinded in the van down to Weston MA to clean a drugstore. The owner watched us the entire time we were there as I knocked over a display of sunglasses and Wally spilled a bucket of dirty water over the freshly waxed floor.
As we packed up the van the owner followed us out and told us "that was the worst cleaning job I have ever had". No doubt. Wally and I laughed ourselves silly all the way back to Lowell.
Believe it or not we did not get fired and worked there part time all summer.
My running went well and one week I ran seventy miles my highest week ever. I saw a Sports Illustrated with Steve Prefontaine on the cover and it psyched me up for upcoming cross country season, my final high school year.
It is now suddenly June of 2016. I am a public library director in a small town and I just now spoke to a library patron, a high school student going through the summer job ritual, and he asked me, "So, Mr. Hodge what were your summer jobs in high school".
Collected Ramblings Dick Howe City of Lowell Blog
https://tonireavis.com/2015/12/31/forty–years–ago-on-new–years–day
Dec 31, 2015 – As 2015 slides into 2016, we offer a New Year's story written by guest blogger Bob Hodge, a Lowell, Mass native who was a charter member of …
1970-1973: High School Years
In the beginning there was baseball, but the interest was waning. Pre-occupied with survival in that freshman year I wondered what had happened to the relative simplicity of grammar school. In gym class, usually having neglected to bring shorts and a t shirt, I would participate in that days activities in my chinos and wing tipped shoes. On the baseball diamond I was a master at walking whenever I came to bat. I would tell the catcher as I headed too first "I will be taking second, first pitch, try and stop me…" Read more.
---
 1974-1976: College Years
The transition from Junior College to full time employee, combined with a knee injury, kept me mostly on the sidelines in 1974. In August of 1974 I read an account of the Falmouth Road Race in the newspaper. This was the second running of the race and featured Bill Rodgers "who upset renowned miler Marty Liquori…" Read more.
---
 1975 Lowell Half-Marathon
This was a pivotal race in my running career. I was attending the University of Lowell at this time, but was ineligible to compete because of my recent transfer from Johnson & Wales Junior College. I had been a member of the Greater Boston Track Club for about a year and had done some training with Bill Rodgers, who had recently become the American record holder in the marathon. Bill had also finished third in the World Cross Country Championships prior to Boston, and that was when we first knew he was for real… Read more.
---
1976 Boston Globe: Treacy Wins NE Cross Country Title
An Irishman from Providence College won the 64th annual NE Inter-Collegiate cross country championship at Franklin Park yesterday and broke the course record in the progress. Nothing surprising about that until uou learn that the Irishman was not Mick O'Shea, the lad who had won this event the past three years and was gunning to become the first man since Bob Black of the University of Rhode Island back in WWII days to sweep four consecutive titles… Read more.
---
1977: The Journey
In early 1977, during my junior year at the University Of Lowell in my hometown of Lowell, Mass., I made the difficult decision to leave school and travel across the country with two friends, visiting places of interest, hiking some trails, and running – always running. To finance this trip, I got a job in a supermarket near my parents' house, saving money and planning the trip with my compadres throughout the winter and spring… Read more.
---
1977 Silver Lake Dodge Marathon
In February, I ran my first marathon, the infamous Silver Lake Dodge race sponsored by the car dealership in Wellesley. I wished to compete in this race in order to get my qualifier for the Boston Marathon, and also as a way of viewing, at ground level, the first half of the Boston course. My Greater Boston Track Club teammates and I often met at Boston College and trained frequently on the second half of the course, but I had never run the first part from Hopkinton and thought that this was important preparation for Boston… Read more.
---
 1977 Freedom Trail Eight-Miler
This article from the Oct. 20, 1977 edition of the Lowell Sun recaps the Freedom Trail race, but moreover, gives a nice overview of my early running career and expands on my long-range plans at the time. Read more.
---
 1977 New York City Marathon
This was the occasion of the second New York City Marathon held through the city's five boroughs. I was in the middle of a cross-country motor trip and currently stationed in Tacoma, Washington. This trip was scheduled to last a year, or at least until I was seriously broke. I made a call back home and found that I'd been offered a plane ticket back to Boston for the first Freedom Trail Road Race. My Massachusetts friends had a connection at New Balance and promised to get me some work while I was back. They also requested that I stick around for a few weeks and compete in the National 15k Road Championship in Manchester, N.H. after I ran the Freedom Trail race… Read more.
---
 1978 Chasing a National 10K Qualifier
I began the year at Stinson Beach, Ca. My Lowell friend Ron Durand and I were continuing our cross country trip that started the previous June. We left Tacoma, Wash., which had been our home base since September, the day after Christmas. A good friend of mine from the University Of Lowell, a great high-jumper named Dave Goosens, had shared his apartment with us and given us a badly needed break from the road… Read more.
---
 1978 Penn Relays
This was my first trip to this world-famous track meet and my best opportunity to qualify for the Nationals, which would be held at UCLA in June. After a disappointing debut in the marathon at Boston in 1977, I decided to go back to running the kinds of events that would make me a better, more accomplished runner overall… Read more.
---
 1978 Malmo: Cruel Shoes
The following story is a response by malmo to this question from the former Track and Field Media.com website: "Doug brown is a national champion, 3 time Olympian, and in the summer of 1978 he went to Europe and ran 21 races. What were his times, splits, and places?" Read more.
---
 1979: World Cross Trials, a Trip to Sydney, and the Boston Marathon
This would be the year that I would become acceptable in terms of chosen lifestyle (an obsession with athletics/shoe jockey) through my performance in the Boston Marathon (3rd place 2:12:30). Running well at Boston for a local person was really the only thing that would make an impression on your friends and neighbors, perhaps even more so than an Olympic Medal to some because of the magnitude of the "coverage" of the race and the way it has captured local folk's imagination. The "Holy Grail" of marathon running… Read more.
---
 1980: Boycott, Marathon Best, Injury, and a Word to the Wise
After a third place finish in the National Cross Country meet in November of '79, my athletics career, which had been solidly progressing since my marathon debut at Boston in 1977, looked very bright indeed. My ultimate goal for the year was the Olympic Marathon trial which would be run in Buffalo NY in May. I went to the Skylon Marathon in the fall of 79 with friend and training partner Earl Fucillo to have a preview of the trials course… Read more.
---
1980 Boston Globe: New York Marathoners Offered Cash Prizes
Prize money totaling about $50,000 was paid to some top finishers in last year's New York Marathon in direct violation of amateur athletic rules… Read more.
---
1980: Boston the Hub of Marathoning
As he left the interview area beneath the Prudential Center following his record run in the 1979 Boston Marathon to lead a 1, 3 (Bobby Hodge), 8 (Randy Thomas), 10 (Dick Mahoney) Greater Boston TC blitz of the race, Bill Rodgers offered an observation… Read more.
---
1981: Rehab, Caracas, Eugene, Sacramento, Beijing, Houston, NYC
I began the year hobbling around on my strained/torn adductor through snow drifts on icy cold roads. I balanced this with swimming and strengthening exercises with weights and in the pool. One physiotherapist I visited, and I visited several , gave me a pair of neoprene trunks which I wore for support. Most of the advice I got from the medical community I felt was bogus so I devised a routine of my own to rehabilitate my injury… Read more.
---
1981 Boston Globe: Early days of Corporate Marathon Sponsorship
The Boston Marathon is undergoing a subtle change. One of the great pure amateur events, the Hopkinton-to-Boston run is being taken over by corporate-sponsored clubs who use the event to showcase their products… Read more.
---
1981 Ken Kesey: Running into the Great Wall
This lengthy article by Ken Kesey originally appeared in Running magazine (Jan./Feb. 1982, vol. 7 No. 1.). With the 1981 Beijing Marathon as the focal point, expect a fascinating look at China as it was opening its doors to the rest of the world after years of secrecy and seclusion,  a consequence of Mao's "Cultural Revolution…" Read more.
---
1982: When Hodgie Became Hodgie San
After spending the last month of 1980 and the first few months of 1981 re-grouping from the worst injury of my athletics career, I was training with renewed intensity and had my sights set on the Beppu, Japan marathon in early February. I had heard some of the race history where in 1978 Shigeru Soh had run 2:09:05 then the second fastest marathon ever run behind Clayton's questionable 2:08:33. In 1981 Dick Beardsley had battled both Soh brothers on the course. The race had a fine history dating back to 1952… Read more.
---
1983: Know Thyself
1982 had been a very successful year and had ended on a high note with a 9th place finish in the National Cross Country and a 5th place finish, six days later at Fukuoka. I had planned a week of R&R in Hawaii after the marathon but had trouble changing my airline ticket without being severely penalized. I decided to skip that and head back to New York. I arrived in NYC exhausted and decided to spend the night in a hotel by the airport, before heading on to Boston. I slept for 16 hours hardly awakening at all. My body was trying to tell me something unfortunately I was not listening attentively… Read more.
---
1984: Fear and Doubting
In late 1983 I had reached a low ebb with my running but I knew what I had to do, if I could. In November 83 after just beginning to resume a good running schedule I was felled by a bad blister on my heal which became infected. I would miss several days before resuming full training and I ended 83 with three solid weeks… Read more.
---
1984 Boston Globe: Falmouth Road Race
Bobby Hodge had been temporarily retired from running competitively on the roads when, in 1974, he read of a race in Falmouth. Vin Fleming, someone he had raced against when they were at Johnson & Wales, finished 10th. Hodge figured it was time to return… Read more.
---
1985: Running Business
When I began my serious pursuit of athletics in 1976/77, I could hardly imagine where it would lead. Would I ever become capable of winning the Boston Marathon or making the Olympic Team? I thought a lot about it on my cross country excursion in 1977 and became determined to pursue this dream "quest…" Read more.
---
1986 Marathon Inscrutability:  Auckland, Boston, Minneapolis
As 1985 came to a close I was ready to leave my athletic shoe company position and re-enroll at the University of Lowell as an undergraduate student majoring in American Studies. I would also become the Head Coach for Women's Cross Country and Track & Field… Read more.
---
1987: Back to the Roots
Immediately after the Twin Cities Marathon in October 1986, I began to focus on the World Cross Country Trials to be held in February in Dallas. I was also looking ahead to the 1988 Olympic Marathon Trial and thought that training for this event would make a good start to that preparation… Read more.
---
1988: Last Go Round
Over the course of the previous twelve years I had my share of highs and lows. Athletic careers are like a tough cross country course. Mine was no different, I enjoyed a modicum of success… Read more.
---
  1993 Boston Globe: Boston's Destruction of a Running Monument
There was considerable fanfare when the "Walkway of the Running Stars" was dedicated in 1984 outside the Eliot Lounge, but there was no publicity yesterday when the city ripped up the patch of concrete to put in a new stretch of sidewalk on Massachusetts Avenue… Read more.
---
Brent "Hawk" Hawkins: The Eliot Lounge
I couldn't sleep at all last night. I'm not sure if it is from the anticipation of the 100th running of the Boston Marathon, the end of an era at the Eliot Lounge, or gas. But I'm pretty sure it's over concern of the loss of a home to thousands of us marathon aficionados on Marathon Weekend 1997… Read more.
---
Brent "Hawk" Hawkins: Consistency
In all my years of running, I probably never received better advice than this, "The key to success in the art of distance running is consistency." Now I'm talking about the consistency of training day in and day out, no matter what the weather may be, not about the consistency of your morning bowl of Cream of Wheat… Read more.
---
Rich Englehart: Tribute to Arthur Lydiard
In 1977, I was living in Washington, DC, immediately around the corner from the house where Ed Ayres was starting Running Times Magazine on the ultimate shoestring budget. Occasionally, I'd go and help out. My "payment" was an invitation to a dinner that Ed hosted for Arthur Lydiard, who was touring the US and speaking twice in Washington, sponsored by Running Times.. Read more.