Hodgie San: Core Beliefs
Hodgie's view on the science (or is it art?) of training
Regarding sound training methods and the science behind them, which have been discussed a lot lately: I can honestly say that after 30 years of involvement in long distance running as an athlete and a (sort of) coach, I cannot tell anyone "exactly" how he or she should train.
I only know what worked for me and my contemporaries; I can offer broad guidelines based on that experience, giving young runner a starting point to work out what will be best for him or her.
I have read books by David Costill, Jack Daniels, and Peter Pfitzinger/Scott Douglas. Very interesting. I highly recommend them, but contrast them with books by Arthur Lydiard and some of the great biographies – Peter Snell, Murray Halberg, Ron Hill, Ron Clarke, Clarence DeMar, and even Bill Rodgers and Frank Shorter. The latter provide inspiration and methodology. While reading them you want to head out for a run.
Everything we need to know about training was discovered many years ago through the ultimate science: trial and error. The exercise physiologists merely explain (perhaps correctly, perhaps not) why they think these methods work, and many write books suggesting they themselves invented the best methods.
When you begin to believe, that is when you will be on the right track to try and accomplish whatever you have set out to do. My advice is to start with Lydiard for some sound training methods, followed by the "Horatio Alger"-type biographies for inspiration.
Biography
Frannie and I were married in 1986 and the next year moved to Clinton, Mass., where we currently reside. We moved here from Hopkinton, Mass., where, I believe, I still hold the resident record for the Boston Marathon (2:14:50 in 1986). We moved to Clinton on the day of the Boston Marathon in 1987. I enjoy living here in our vast two-bedroom estate overlooking Coachlace Pond. (Coachlace is that frilly stuff on curtains once seen on trains and such; a mill which manufactured it was once found nearby). We are located near the Wachusett Reservoir, a great place for running. Other appealing aspects of the town include affordability and its resemblance to a miniature (13,000 vs. 100,000) Lowell: Old New England Mill Town, U.S.A.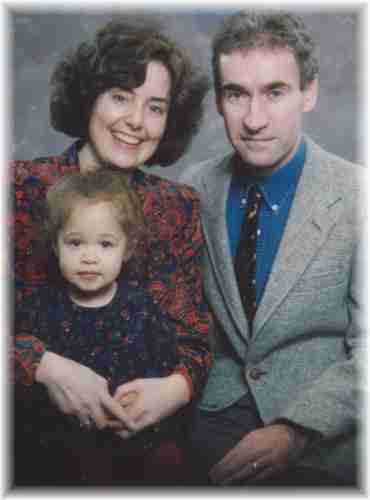 I formerly worked in the athletic shoe industry before going back to school at the University Of Lowell in 1986 and coaching the women's teams there from 1986 to 1990. I applied for many coaching positions (over fifty) after graduation, with no success. I still apply for some from time to time and have a folder full of rejections from pretty much every major university in the country. No matter – it just was not meant to be. I currently work as a law librarian for a large Boston law firm and, after getting into this type of work quite by accident, have been doing it for the last 10 years. I am finally planning to get my MLS in 2001, since it looks like this will be my "career" until the bitter end.
But enough about ME.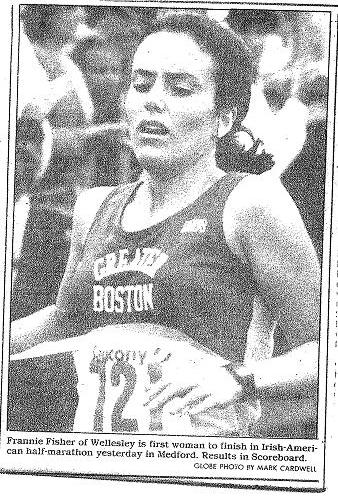 My wife Frances works in the computer industry. She formerly competed (1984 picture) for the Greater Boston Track Club and has run a 37:00 10k and a 3:08 marathon. She was a swimmer/runner at Boston College.
Lillian came along in 1992 and is currently into Karate. She has competed in the Dartmouth Relays Grafton County one-lapper the last two years. She formerly participated in dance (ballet and tap) and has tremendous coordination – unlike her dad.
We're just a little family here in Clinton, and I think we're doing OK.