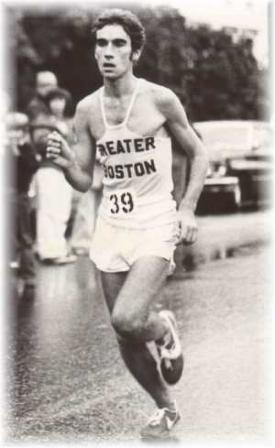 Hodge Shatters Record At Manchester
5 Runners Dip Under Rodgersí Mark – Lettis Defends Title In Record Time
By Larry Newman
Manchester, New Hampshire, Oct. 13- More often than not, when road race records are broken, one runner alone accomplishes the feat. But what happened at the New England 15 kilometer Championship must have caused even the sagacious veterans of road running to turn their heads.
In an unprecedented display of high quality performances, five runners made shambles of the 9.3 mile course record of 46:28 set by 1975 BAA Marathon winner, Bill Rodgers in 1974.
Not to be outdone by her male counterparts, Charlotte Lettis did some rewriting of the record books herself as she successfully defended her title in the record time of 54:52.
But this Columbus holiday race belonged to Bob Hodge, lending even more credibility to his second place finish to Bill Rodgers the previous week in Lowell, Mass. Hodge a student at Lowell University and member of the team winning Greater Boston Track Club, led the record assault from Manchesterís Knights of Columbus Hall. The former Johnson & Wales (RI) Cross Country standout lost little time in going for the lead as he opened yardage in the first mile and steadily increased it over the rolling hills that circle Manchesterís business district.
Pounding the pavement in an effortless stride, he toured five miles in 25:00 negating any challenges from the second place group of four that included Derderian, Thomas, Olsen and Duggan. Appearing in complete control during the flat and downhill latter half of the course, Hodge made the final turn from Elm street onto Hanover coasting down the final yards to finish in a new course record of 45:29. (59 secons ahead of Rodgersí record).
Hodge spoke of his 4:53 per/mile record setting pace: "I thought if I was able to break 50 minutes on the course today Iíd be doing well," said the low keyed young athlete who will be eligible to run for Lowell University this winter. "I couldnít believe I was still in the lead when I reached the downhill area (6 miles). This is the first year Iíve done any serious racing on the roads. Iím really quite surprised with my performance today." Asked if he knew how close his nearest competitors were as he neared the finish, Hodge said, "I make it a point to never look back when I run. I know if I did it would really psych me out. As it is, I always have the feeling that someone is creeping up on me."
Twenty five seconds behind Hodge the race for second place came down to the final ten yards. Former University of Massachusetts All American Randy Thomas (Fitchburg Mass.), running for the GBTC, out sprinted friend and rival Tom Derderian of th Sugarloaf Mountain AC. Thomas the 1974 IC4A cross country runner-up who has a 4:05 mile to his credit, will be pointing toward the National AAU cross country championships at Annapolis MD. on Nov. 22.
Former All American Charlie Duggan (Spingfield College) was next across the line in 46:03. "I was coming on strong at the end, said the former 9:06 high school two miler out of Hartford Public in Connecticut. I think this is only my third rod race over six miles. I was just a little bit unsure of myself out there today. I think my best distance may be between six and seven miles. When we (GBTC) go to the Nationals at the end of November, Iíll be ready to go."
Tom Dowling of the BAA, runner-up in the Northeastern Invitational, rounded out the record setting top five with his 46:19 for fifth.
Besides the top five all breaking the course record many of the 138 finishers scored PRís over the wet and overcast course.
Not so fortunate was Art Dulong. The former Holy Cross All American, on his way to what GBTC coach Bill Squires feels will be a successful comeback, fell victim to severs stomach cramps which remained with him throughout the race. He finished 12th.
Maintaining her stronghold at the top of womenís road racing Charlotte Lettis successfully defended her title finishing 56th in 54:52. She eclipsed her old course mark of 55:17 set in 1974.
Counselor to some 300 dormitory students at the University of Massachusetts Charlotte seemed somewhat surprised by her record performance: "I didnít really feel that great out there today. I was relaxed but at the same time I thought that I should have been able to go faster. I was happy with my time though, I was just looking to get under 55:00.
For the second straight year the team title was won by the GBTC. Placing five runners in the top twelve they amassed a total of 26 points, finishing ahead of the North Medford Club (65) and the BAA (75).