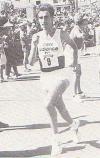 Kindness of Strangers
I had a plan to get me back in the groove get my mojo working and on paper it held a lot of promise but now three weeks in beyond tired, injured and thoroughly banjaxed I just wanted to go home.
But, I had a commitment to keep that required spending two more weeks most of it around beautiful sunny shallow alto CA at least it felt that way when you are broke and sleeping on peoples couches.
My trip began with little to no support from my shoe company sponsor and so a major road race in the NW agreed to send me a ticket early and then I would end my trip competing in their event
The main event for me was the National Track & Field Meet in Sacramento. I had two preliminary races on the track in Eugene OR at famed Hayward Field. I had a10,000 Meter at the Twilight meet and a 5,000 Meter at the Prefontaine Classic a week later.
I travelled to Oregon the last week of May flying into Portland and taking a bus to Eugene. I had run a marathon here the previous September and all was well but in May my allergies kicked in normal for me even back home in Massachusetts but times ten here in the grass capital of the world. I was miserable and after my runs I holed up in my motel with the air conditioner blasting.
A few days after my arrival I competed in the twilight finishing third in the 10,000 running a 29:27 a mediocre race but I figured OK because the Pre 5,000 was the real goal and I wanted to run a PB.
Eugene was an interesting place track & field capital and all that and there were many opportunities for socializing and relaxing with other athletes so that was cool and I enjoyed myself. I met up with a west coast representative from my shoe company who lived in Eugene and he invited me to come and stay at his house which was awesome since my funds were dwindling fast.
We made a trip up to Washington State to visit some retailers and it was a chance to get away from the grass seed in Eugene and all and all at this point my trip was going pretty well though I was certainly not getting cocky.
Back in Eugene for Pre I did a mile time trial in 4:14 and struggled with my breathing so much so that I cut my workout short and then began to worry about racing a big time field in the signature event of the meet. Well too late I had already crossed the Rubicon and besides that in training you listen to your body and in racing you tell your body to shut up.
I got a PB in that Pre 5,000 for two miles in 8:39-40 which was cantering for most of the field and as the studs proceeded racing I wambled around the track sucking the air worse than Ron Clarke in Mexico City and that's a fact Jack. I finished in 14:08 not DFL but close enough.
So I wound up my business in Oregon and flew to San Francisco where I would be running another 5,000 at the Brooks Meet at Berkley. I stayed with a writer friend from Runner's World Magazine. I ran a lackadaisical effort and finished 5th in 14:20. My left heal was inflamed the beginning of a renewed battle with a bone spur. The track racing in spikes had brought back that old injury in spades.
Going into Nationals I was falling apart feeling depressed realizing the entire trip had been a big gamble and I was losing but that is life minus the discount. My writer friend took me to meet another local runner who would be heading out to Sacramento for Nationals. I had met him briefly once before a quite animated character of Irish decent and he looked it like a tall bean pole leprechaun with Larry Fine's hair.
When we got to his apartment he had a VW Bug engine he was working on laying on the coffee table in the living room with parts and wrenches and a manual. "Hey Bob have a seat, can I get you a beer? That little project is a rebuild; I gotta get to work tonight so we can get that back in the car for the ride out west."
Yes the glamorous life of the long distance runner down and out and living large at the same time day to day just soldier on buddy I ask myself "what else you gonna do?"
We had a fun couple of days went to the Stanford Track where I did an easy workout and watched some of the Stanford guys and ex Stanford guys being put through their paces by a legendary coach.
We drove the VW with the rebuild out to Sacto with all the windows down looking for a whiff of a breeze in the 100 degree heat. Between that and the sore heal my prospects were nil. After doing a brief warm up I sat in the one shady spot where all the other 10k guys were and spotted Alberto Salazar a former mate with the GBTC.
"Hi Al, did you see what Beardsley ran at Granma's a 2:09?" Alberto just shrugged as if to say "no big deal Hodgie he got nothin on me."
I dropped out of the race at 5K watched the rest of the meet and got a bit of treatment for my foot from a trainer assigned to the meet.
I left the next day for Portland to run in the Cascade Run Off a race that was challenging the TAC our governing athletics body by offering open prize money. Ironic since I was flat broke able to use my tapped out credit card for meals but turned down for a cash advance..
I managed to complete the race and return home to Boston hobbled and with my tail between my legs wondering what the F was I doing with my life.