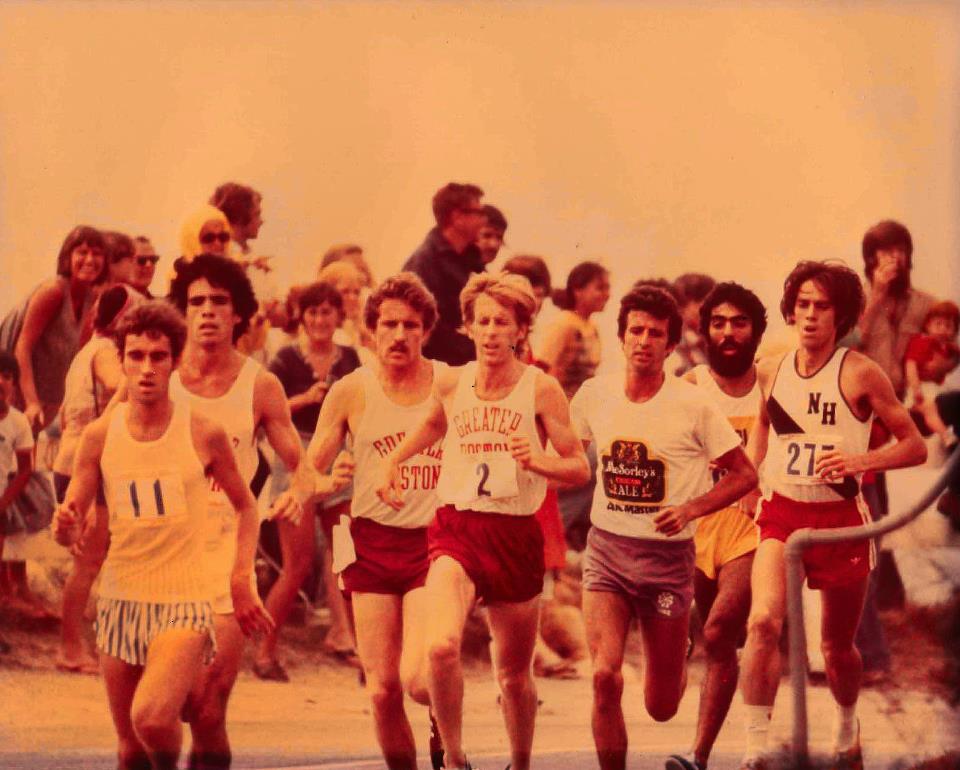 At the Nobska Lighthouse 1 mile mark I am in the lead and it was thrilling, but not for long.
Photos TL Tommy Leonard now at 80 something immortalized and still a hit with the girlies.
2017 Falmouth Reunion
It is August 1974 and I am in the break room at Raytheon Co. Andover MA where I am gainfully employed, when I pick up the newspaper to see;
Will Rodgers victorious in the second Falmouth Road Race defeats Olympian Marty Liquori.
 http://www.bunnhill.com/BobHodge/Rodgers/Races/races74.htm
Will is quoted "I would be humiliated to be defeated by a mile specialist in a 7 mile race."
It caught my attention. Here I am at age 19 wiring cables for the Patriot Missile. Did I not run stride for stride with this Will Rodgers at the Manchester CT Thanksgiving Day Road Race last year?
Many other names in the top ten include my Johnson & Wales former teammate Vinny Fleming running for a new club Greater Boston.
I was shook up seeing this; I was running sporadically thinking the whole thing was pointless. Shit I'll never win Boston or run in the Olympics but… well maybe.
Falmouth pulled me back into competitive running and life began to take a shape, this is before I met race founder Tommy Leonard, and before I did my cross country trip, before many of the key times in my life.
It was the summer of 75 or 76 maybe some of both. I was back in school at the newly formed University of Lowell and in the work study program working in the gymnasium cleaning out lockers and sitting at the door checking ID's etc.
 But mostly I was running lots of miles more than I had ever run, and I would be testing my fitness for the upcoming cross country season at the now famed Falmouth Road Race.
 I traveled down to Falmouth with U-Lowell teammate and fellow work study co-worker Vin Fleming. Race founder Tommy Leonard told us he would find a place for us to stay.
 When we got there and found Tommy he seemed to have forgotten. You see, Tommy gets excited and he was our friend and supporter it was touch and go for awhile but then Frank Shorter decided he was not going to use the cottage on a golf course that Tommy had reserved for him so Vinny and I were in.
 I was trying to tamp down my own excitement. I was ramped up to be toeing the line with Shorter, new GBTC teammate Bill Rodgers and a host of New England's best runners. I also felt that I was in top fitness.
 At the start line where everyone was warming up, Tommy introduced me to Frank, "Bobby, why don't you do your warm-up with Frank" Geezus, I know it sounds stupid but at age 20 I was so in awe of Shorter I was tripping over my feet just doing some light jogging beside him. What a goofy fan boy I was.
 When the race started Vinny and I were out like a shot. The belief I had then, that I could run with anyone it was just crazy and brilliant at the same time.
 At the Nobska Lighthouse 1 mile mark I am in the lead and it was thrilling, but not for long.
 I acquitted myself well that day finishing 7th and what a time we had afterward.
Throughout the 70's & 80's Falmouth attracted a who's who of America's distance running elite. The depth of performance was phenomenal.
In 1980 there were 44 runners under five minute pace. In 1982 there were 51.
http://recoveryourstride.blogspot.com/2010/07/1980-falmouth-road-race-photos.html
In 2016 there were 9.
http://www.mtecresults.com/race/leaderboard/4494/2016_Falmouth_Road_Race-Run
I could go on and on but I will say just one more thing so as not to write some sort of expose, in 2011 New Balance the "made in the USA mostly company" began as title sponsor and made the American prize money equal to the open prize money and you could double dip.  That year there were 5 Americans in the top ten and 34 runners under five minute pace. Almost like the days of old.
http://www.flotrack.org/article/7196-falmouth-prize-money-draws-big-usa-field-but-may-impact-strategy#.WX-h9YTyuM8
That didn't last.
Prize money is up over 2016 when it went only to the top five and that should make for a better race up front at least among the top ten and top three Americans.
http://www.falmouthroadrace.com/prize-money/
Why is the depth of performance important? Seems obvious to me it's a race.
Call me an old crank, but is this a professional sport really?
I competed here on ten occasions; 1975, 76, 78, 80, 81, 82, 83,84,86,89. Falmouth grew and I grew with it.
Some of us who return each year will set out to run the course on Friday, first we will rub Tommies head for luck and set off probably being filmed by the Olympic Channel or maybe the History Channel, and then we will hunker down in the Crow's Nest on the deck overlooking the finish line and the ball field on Sunday and witness the spectacle and reconnect with our friends and our past.
Hope to see you at the reunion.