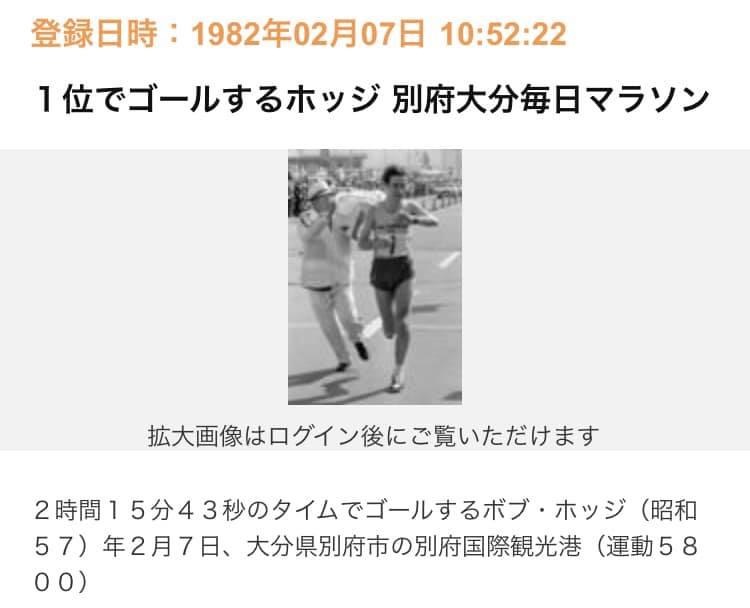 Continuing Saga Hodgie-san
Don't Look Back– Beppu 1982
I assumed the lead shortly after the turnaround half way point. We were running an aggressive pace aided by a strong tailwind. I had hit the half in 1:04:31 with two Japanese runners in tow I was now out front with one other competitor maintaining close contact and I was feeling my oats.
The course record run here in 1978 was 2:09:05 by Shigeru Soh, then the second fastest marathon time ever run.
Japan is a fantastic place for a racer to run a marathon. Most of the top races there invite a smallish contingent of foreign runners and I considered myself fortunate and much honored to be competing in Japan for the second time in just a couple of years.
Beppu is a beautiful place on the coastline of the southern island of Kyushu. It is known for its thermal hot springs and bordered by volcanic mountains rising up from the coast. It is a dramatic setting for this race.
Judging from the sound of the many spectators lining the course and waving little Japanese Flags, we had extended the lead. I never liked to look back in races a long time superstition of mine; I feel it gives the athletes behind you hope and the idea that you are worried and vulnerable.
The race was headed by a couple of busses carrying the media and race officials and we were also surrounded by motorcycle policemen monitoring the course and keeping the spectators back.
From the thirty kilometer point until around the thirty seven kilometer point I ran alone and the effort and the headwinds we were now facing that had given us a nice push on the way out now broke my easy rhythm. At this point I lost my concentration and focus for a bit just looking around at the crowds and the vehicles that were surrounding me.
I fell into a dream state or perhaps it really all is a dream and I am back in Lowell MA running along the Merrimack River, so many miles covered there, or maybe I was in Boston running along the Charles River or perhaps at my current living space a winter rental in Marshfield MA running along the seashore by Green Harbor. The rivers of my lifeblood and later the Nashua River slowed to a trickle by the mighty Clinton Dam holding the Wachusett Reservoir, waters for Metropolitan Boston, but also continuing to the Merrimack River of my youth.
Suddenly another runner pulled even with me and then quickly moved past me this is reality. I am running the Beppu-Oita Marathon, in Kyushu in Japan, along Beppu Bay, the East China Sea the port of Beppu at the finish line.
It was a tight battle within me now, if Nishimura san keeps this pace I was looking at holding onto second. Make or break time, and as I have mentioned I don't ever look back.
Nishimura continued to put distance between us and I struggled to maintain and eventually draw a bee line for him. As we closed in on the finish less than 5 kilos to, he began to come back to me. Nishimura was looking ragged; at least that is what I wanted to believe. Yes, look at him now like a punch-drunk fighter, can't even run a straight-line tangent, pull him back and win this sucker.
And so, I did a most fortunate occurrence a second wind, mind over matter. It was Nishimura san, Hodgie-san who will win this major running battle? In the aftermath of the race on the morning after, a few people I passed on my morning run held up their index fingers to me side by side and said "Nishimura-san, Hodgie-san, Nishimura-san, Hodgies-san" and smiles and laughter. They had watched the race on television perhaps.
I passed Nishimura at 41 Kilos and won the race by seven seconds in 2:15:43 a slow time especially considering our fast first half.
No matter, it was a victory and it was sweet, a shot in the arm for a struggling runner and a vindication of my efforts in training and also my wayward gypsy life with a significant achievement. This was among a small handful of achievements in athletics that mean the most to me now, so many years down the road.
My employer/sponsor in those pre-professional running days was the New Balance Athletic Shoe located in Boston MA but now making some in roads in Japan. Their representatives picked me up at my hotel the day after the race and we drove to Fukuoka where the New Balance Factory is located taking in some interesting sights along the way.
My hosts got me situated in my motel and requested that I dress in my New Balance running gear for a tour of the factory and afterwards a run with the employees on a local track. A company car with little NB Flags waving on the sides came to pick me up.
I was not prepared for the reception I received as hundreds of employee's formed lines for me to pass through. I was given a bouquet of flowers and felt a little awed and foolish as I walked through the line of applauding workers.
After meeting with some officers of the company, signing autographs and having some small refreshments we headed to the track for an easy run. It was quite a memorable day for "Cinderella Boy" Hodgie-san. My hotel was a Japanese style capsule hotel and I sat in a bath for a short while before climbing into bed and reading Shogun for a bit before falling dead asleep.
I received many awards for this race all of which were shipped back home for me. A tree was planted in my honor the American Elm the official tree of Massachusetts my home state. Perhaps I should go visit "my" tree after 35 years it should be a nice size.
I was also given a bamboo basket made by a famous bamboo artist from Japan. It was sent to me many months later bearing a plate inscribed with its significance.
I was given a copy of the television coverage on a Betmax Tape and also purchased a Beta viewer. The tape has been converted over the years first to VHS and then CD and now available on You Tube.
I competed again in Japan at Fukuoka in December of 1982 finishing fifth in 2:11:52. I am one of just a few American males to win a marathon in Japan.
Beppu Marathon Japan 26.2M 1. Bob Hodge (USA) 2:15:43
(5k-15:03; 10k-30:10; 15k-45:35; 20k-1:01:06;; 25k-1:16:48; 1/2m-1:04:32; 30k-1:33:02, 35k-1:49:55; 40k-2:07:46)
2. Yoshihiro Nishimura (JAPAN) 2:15:50
3. Greenville Wood (AUS) 2:16:35
,
https://www.youtube.com/watch?v=NYXg3069DXI