When I was a Sophomore in high school Lowell MA after having achieved a bit of success with my running I became very determined in my approach even though I was a real greenhorn with no idea.
In the winter track season we met at the Annex a building which also housed Lowell Trade School a block from our high school.
In the Annex we had a small dilapidated locker room to change and for a time a 110 yard heavily banked wood track but it was condemned when leaking pipes warped the floor beyond repair.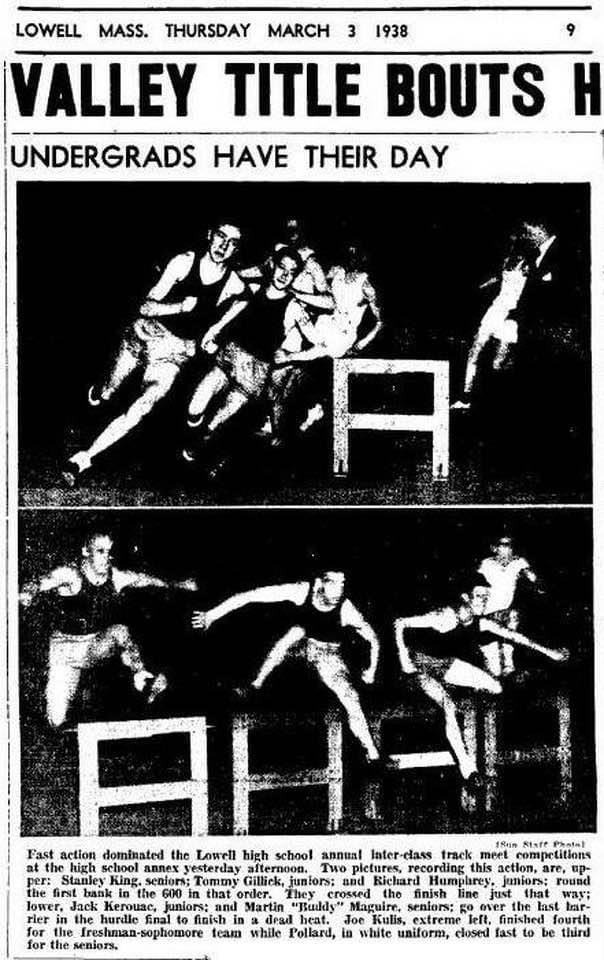 Back in the day 1930's some big track competitions were held there and our Coach John "feets" Lang and famed local author Jack Kerouac competed against the best in the state.
But I didn't know that then in 1971.
With no indoor facility we began running more outdoors in the psycho NE weather in our heavy cotton sweats and rubber "track shoes" sometimes with Irish Olympian Pat McMahon who was a elementary school teacher in the city.
Pat took us for much longer runs than we had ever done and for the most part I loved it and he tried to impart some wisdom to us knuckleheads in his heavy Irish brogue
"Bobby ya see uh like this here you go long easy today tomorrow hills on 6th Street then short sprints on dat hunk a junk track right then two meets a week tell Johnny Lang you need to run da mile and two mile jaysus Bobby Tousand yards all da time why?"
Well there you go this guy ran in the Olympics but no way I was telling our coach anything I was scared shitless not to do what the coaches said.
Anyway I got a bad cold flu like symptoms and applying the wisdom of a 14 year old who had to get his run in I applied Vicks Vapo all over my chest changed into my running gear waited a few minutes to see if anyone else showed up for practice but even Coach Lang wan't around hmmmm.
I headed out on my own into a raging snowstorm chest burning with the Vapo rub
I never wavered ran three miles along boulevard back to the Annex and when I got there Mr Lang was waiting for me "Bobby I thought that was you are you nuts? You could have been killed out there" "Sorry Coach."
"Geez what is wrong with your voice you got a cold?" "Ya Coach but I used some Vicks Vapo thing is my chest is on fire"
Coach was incredulous Grab your stuff I'll take you home. He shook his head at me the whole way to my house and dropped me off with a chuckle "Vapo rub, you puddinhead"